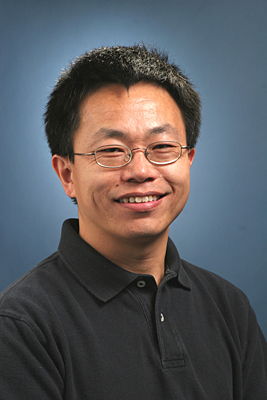 New named professor
Yan joins Department of Chemical Engineering, UD Energy Institute
1:18 p.m., July 19, 2011--World renowned researcher Yushan Yan is known for his work using nanomaterials to solve problems in energy engineering, environmental sustainability and electronics.
His research group was the first to demonstrate the use of zeolite thin films for semiconductors and aerospace applications and new materials for fuel cells, energy storage and solar hydrogen generation.
'Resilience Engineering'
The University of Delaware's Nii Attoh-Okine recently published a new book with Cambridge University Press, "Resilience Engineering: Models and Analysis."
Reviresco June run
UD ROTC cadets will run from New York City to Miami this month to raise awareness about veterans' affairs.
Yan joined the College of Engineering July 1 as Distinguished Professor of Engineering, the first college level professorship of its kind. He will have dual responsibilities within the Department of Chemical Engineering and the UD Energy Institute (UDEI).
"Providing clean, efficient and safe sources of energy is one of the most critical challenges facing our society. Yushan is an important addition to the college and to the research programs focused on these issues at the University level," according to Babatunde A. Ogunnaike, interim dean of engineering.
Yan's current research thrusts include the development of new fuel cell catalysts and membranes to reduce the cost and improve the durability of fuel cells.
According to UDEI Director Michael Klein, Yan's highly entrepreneurial research toward making fuel cells commercially viable aligns nicely with the strategic initiatives of both the University and UDEI.
"Yushan brings to UD a remarkable blend of scholarly excellence and commercial relevance. We very much look forward to working with him," said Klein.
Yan previously served as Presidential Chair of the Department of Chemical Engineering at the University of California, Riverside, where he was one of five inaugural UCR University Scholars. The decision to leave, he said, was not an easy one.
"Academically speaking, I was born and grew up at UCR, so it is like leaving home for the first time," Yan explained. "With the significant investment UD is making in energy and environmental research, it is an exciting time to join UD. I look forward to working with my colleagues at various departments and centers, including the Center for Catalysis Science and Technology, the Catalysis Center for Energy Innovation and the UD Energy Institute."
Also an AAAS fellow, Yan is the inventor of a large number of issued or pending patents, several of which he has licensed to form startup companies.
His work is widely cited in the scientific community, and his research has been extensively covered by media and technical magazines. He is a member of the American Institute of Chemical Engineers, American Chemical Society, Electrochemical Society, Materials Research Society and the North American Membrane Society.
Yan received his bachelor's degree in chemical physics from the University of Science and Technology of China in 1988. He earned his master's and doctoral degrees in chemical engineering from the California Institute of Technology in 1995 and 1997, respectively. He also studied at Dalian Institute of Chemical Physics of the Chinese Academy of Sciences before beginning his doctoral work in 1992.
About the professorship
The College of Engineering Distinguished Professorship originated in the 1960s as the Hawthorne Professorship, named for Howard S. Hawthorne and funded through a DuPont Company engineering department employee voluntary endowment. The endowment has received additional gifts over the years and expanded into the current professorship.
Article by Karen B. Roberts