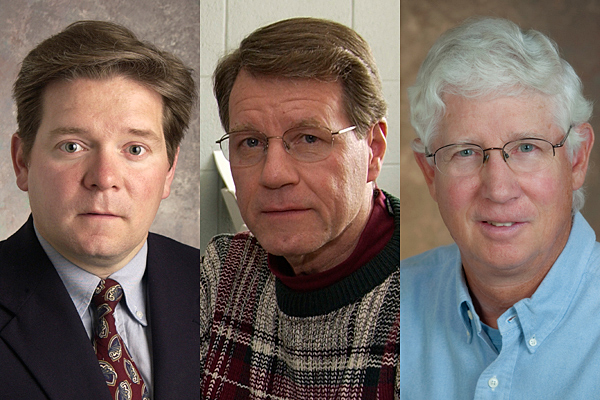 Women's World Cup
UD profs, grad students conduct research related to Women's World Cup
11:43 a.m., July 15, 2011--When the FIFA Women's World Cup final is contested on Sunday afternoon in Germany, UD professors Matthew Robinson, William Latham and Kenneth Lewis and a team of graduate students will be more than partisan supporters of the United States Women's team as it battles Japan.
The UD contingent and a task force consisting of prominent American soccer figures have spent the last 12 months conducting a comparative analysis of the top women's soccer countries in the world, including the two teams that will square off on Sunday afternoon in Frankfurt.
Fulbright awards
Three University of Delaware students and an alumna have received word this spring that they will travel abroad as part of the newest class of Fulbright Student Program award winners.
Peace Corps plans
Two University of Delaware students, John McCarron and Bridgette Spritz, have been selected as Peace Corps volunteers and will serve in Ghana and Rwanda.
"For many it is surprise that Japan has advanced to the finals. It was not for us based on what we discovered through our research," said Robinson, professor of business administration and director of the sport management program in the Alfred Lerner College of Business and Economics. "Japan is doing an incredible job of developing skillful players and have developed a strong soccer culture in a very short time. We, the U.S., are still ranked first in the world, but other countries have closed the gap and that has not been by accident. It is because of the commitment the other countries are making to women's soccer."
Latham and Lewis also are in the Lerner College, Latham as an associate professor of economics and Lewis as the Chaplin Tyler Professor of Economics. They direct the Center for Applied Business and Economic Research (CABER).
Robinson, who in addition to his other duties directs the International Coaching Enrichment Certificate Program (ICECP), a partnership of UD and the U.S. Olympic Committee, said he was exposed to the player development platforms of other countries through his work with the program.
After speaking at an international player development conference in Canada, Robinson, who also serves as director of management education for the National Soccer Coaches Association of America (NSCAA), had traveled to present at an NSCAA Director of Coaching Course. There he met Anson Dorrance, women's soccer coach at the University of North Carolina Chapel Hill and the coach of the 1991 U.S. women's national team that won the inaugural Women's World Cup. 
"I was given a book on long-term athlete development for speaking at the conference in Canada and Anson noticed it in my briefcase and began to read through it. He commented that the world is getting better at developing women players," Robinson said.
Studying player development
The two then developed a plan to look at what other countries were doing in terms of player development. They enlisted the support of Hank Steinbrecher, former secretary general of U.S. Soccer, as well as several other prominent individuals within the women's soccer community in the country. They included Tony DiCicco, 1999 Women's World Cup winning coach who is serving as an ESPN analyst in Germany, and Jean Brooks, a senior administrator in Region I of the Olympic Development Program.
The project took Robinson, Dorrance and Brooks to Germany in January to meet with the German Football Federation, and Robinson to Brazil in March to meet with the Brazilian Football Federation. Dorrance met with a delegation from Japan when the national team was in the U.S. for friendlies in May. The project also included telephone interviews with the women's soccer leadership of England, France, Norway, Canada, Australia and the U.S.
"All of the federations were very cooperative but also very interested in the findings themselves," Robinson said. "Having Hank and Anson brought incredible credibility to the project and opened many doors. It was an honor working with two soccer legends, both U.S. Soccer Hall of Fame inductees, and I have made new friends and colleagues in eight countries along the way."
Factors for soccer success
Robinson said the factors that impact international women's soccer success can be categorized as being macro level (Gross Domestic Product, population, effectiveness of government, etc.); micro level (cultural variables, gender gap, strength of soccer culture and women's soccer culture); and meso variables, those variables a soccer federation has a greater degree of control over such as financial support, federation structure, talent identification and development, playing opportunities, coaching development, facilities, opportunities for international competition, and the integration of sport sciences.
The majority of the meso data that was gathered was qualitative in nature but in discussions with Latham and Lewis, Robinson, a CABER research fellow, said they realized that there could be some quantitative analysis done in regards to the macro and micro variables.
Lewis and Latham led graduate students Corey Johnson and Al Vallens in examining all 127 countries who fielded women's team to see if there were significant relationships between these variables and the FIFA points a country's women's team had earned. 
The CABER researchers found that those micro and macro variables that had the strongest correlations to international success in women's soccer were the number of clubs in a country with more than one women's team; FIFA men's points; the cultural dimension of uncertainty avoidance; the percent of all of a countries players who are women; the population of a country and the political stability of a country. 
Combined these variables accounted for 70 percent of international success in women's soccer.  That left the remaining 30 percent in the hands of the soccer federation and the meso level variables.
Future trends
"The U.S. benefits greatly from the macro variables," Robinson said. "We are a large country population-wise and economically, and we have a stable government. We have a strong women's soccer culture, micro variable, and we are doing a good job in the meso areas."
But, Robinson said, "That may not be good enough in the future. Countries such as Japan, Australia and Canada do not benefit from the macro variables and don't have as strong soccer cultures but have risen to prominence by focusing on those meso areas they can control, while countries like Germany, France, Sweden and England have strong soccer cultures and are now making a serious commitment to the women's game. Brazil, on the other hand, does not make a commitment to women's soccer but benefits immensely from the strength of the soccer culture in that country."
Several of the trends that emerged from the research into the meso areas were related to the player development and talent identification platforms, as Dorrance had suspected, as well opportunities to train and compete and a federation presence at the local levels.
"In other countries, youth development is of the highest importance," Robinson said. "The focus at that age is on the development of the skills of the players. In the U.S. there are kids between ages 8 and 12 spending six hours in a car to travel to a tournament where they may play inferior competition and have limited touches on the ball. In other countries that is six hours of skill development. Also these countries view this age as so critical they have their best coaches coaching in that age group. In the U.S., it is often well-intentioned but untrained volunteers who coach at that age group."
Along with that, the importance of players being able to continue to play and sustain themselves financially emerged. The U.S. has benefited from this through college soccer, federation financial support of national team players, and a professional women's league, but the other countries have launched senior leagues, as well.
Finally in other countries, there are regional centers of excellence that are staffed by federation coaches who are there strictly to train players and to educate coaches, Robinson said. A talented player can play with a local club team, but they know they will get professional training on a regular basis and they will not have to travel a great distance to get that training.
While in Germany, the German Federation suggested sharing the findings with FIFA, as the information gathered would be of benefit to all women's soccer playing countries and especially in developing countries. 
The research team is preparing a report for the organization, as well as all the countries that participated in the study, and said he will publish a more detailed manuscript in a book that he is writing on the findings. 
"It has been an incredible 12 months of learning and sharing and Sunday will be a great way to bring closure to the study," said Robinson. "Sunday's game will be exciting as two contrasting styles will be on display. As much as I would like to be an unbiased researcher observing the game, I have to admit I will be cheering on the USA."