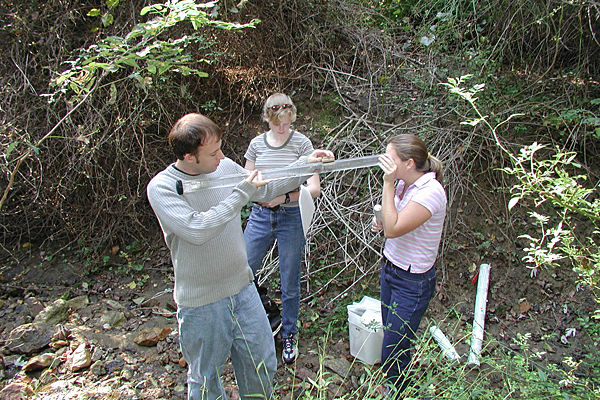 Water science, policy program launched
New interdisciplinary graduate program addresses the future of water
1:24 p.m., July 28, 2011--The world's human population is expected to top seven billion by April 2012. Of all the burdens this growing population places on the planet's resources, none is more critical than the pressure on the world's fresh water supplies. Just 2.5 percent of Earth's water is fresh water, and much of that is frozen and unavailable to terrestrial life.
Developing solutions to the problem of meeting the growing need for clean water that are socially acceptable, economically viable and environmentally sustainable is the focus of the new interdisciplinary graduate program in water science and policy at the University of Delaware, which welcomes its first students this fall.
From graduates, faculty
As it neared time for the processional to open the University of Delaware Commencement ceremonies, graduating students and faculty members shared their feelings about what the event means to them.
Doctoral hooding
It was a day of triumph, cheers and collective relief as more than 160 students from 21 nations participated in the University of Delaware's Doctoral Hooding Convocation held Friday morning on The Green.
The new program will offer a master of science degree and doctoral degrees with either a water science or a water policy concentration. The curriculum draws on courses from four colleges at UD: the College of Agriculture and Natural Resources, the College of Earth, Ocean, and Environment, the College of Engineering, and the College of Arts and Sciences.
Students in the University-wide program will be advised by any of the 30 or so faculty affiliated with the program. The program will be housed in College of Agriculture and Natural Resources and will be directed by Shreeram Inamdar, associate professor of watershed hydrology. 
"We have a really top-notch cadre of faculty representing many disciplines, including hydrology, geology, geography, ecology, climatology, microbiology, plant and soil sciences, environmental chemistry, engineering, resource economics and public policy," Inamdar said. "We may approach the problem of water from different perspectives, but we share a common goal of better understanding, protecting and managing our precious water resources. The beauty of this program is it provides students greater flexibility in shaping their curriculum and greater opportunities to collaborate with faculty from diverse disciplines and departments."
The new program was initiated under the auspices of the Delaware Environmental Institute (DENIN), where staff members Jeanette Miller and Amy Broadhurst helped to coordinate the diverse group of interested faculty and the necessary paperwork and approval process to launch the program.
A new website has been created to provide prospective students with information about the program. According to Inamdar, there are two new research assistantships available immediately to students in the program whose adviser has a primary appointment in the College of Agriculture and Natural Resources.
"Students who graduate from this program will be able to pursue exciting career opportunities in academia, governmental and nongovernmental agencies, close to home or around the world," said Inamdar. "The demand for clean, healthy water is going to be very high in the coming century, and so will the demand for our graduates' expertise."
Article by Beth Chajes
Photo by Jerry Kauffman