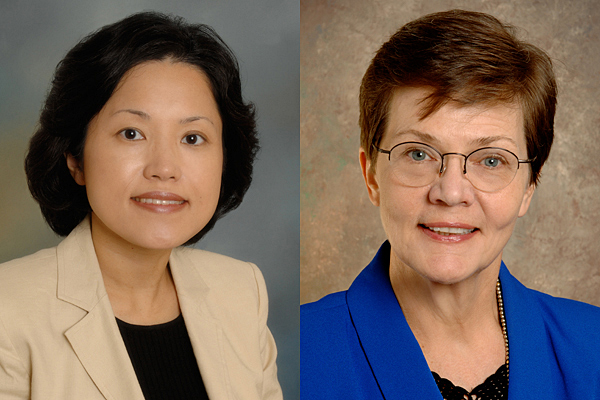 Fashionable education
UD fashion students spend the summer as interns in Hong Kong
8:49 a.m., July 27, 2011--For University of Delaware fashion merchandising major Gabriella Rivera, a two-month life-changing excursion halfway around the world began with a simple thought: "What do I have to lose?"
In the summer of 2010, Rivera joined fellow UD fashion students Courtney Bomberger, Lauren Pisarczyk, Jillian Kramer and Laura Graham for the pioneering trip to Hong Kong. However, the group did not spend their time in classrooms. Instead, they had an opportunity to intern for some of the most successful multi-national corporations in the apparel industry.
Fulbright awards
Three University of Delaware students and an alumna have received word this spring that they will travel abroad as part of the newest class of Fulbright Student Program award winners.
Peace Corps plans
Two University of Delaware students, John McCarron and Bridgette Spritz, have been selected as Peace Corps volunteers and will serve in Ghana and Rwanda.
The Hong Kong internship program is led by two UD Department of Fashion and Apparel Studies professors -- Hye-Shin Kim and Sharron Lennon. 
Kim explained that "students work side-by-side with U.S. expatriates and Chinese natives in a dynamic and fast-paced environment, which is described by some as 'New York on steroids.' For students, international internship experience is a resume builder and opens doors for a successful future."
The international internship gives students one of the most memorable experiences of their academic careers. Bomberger described her time abroad as "thrilling and unforgettable, filled with endless learning opportunities and cultural experiences."
Now in its second year, the Hong Kong apparel industry internship program has 10 UD student participants in 2011. They are spending an invigorating summer experiencing life in the fashion capital of Asia and the world's sourcing capital for apparel. 
Students are working in both U.S. based and Chinese corporations, including Ann Taylor, Li & Fung, VF Corporations, Target, Levi and Inside Fashion.
"The activities students experience are endless," said Lennon, the Irma Ayers Professor of Fashion and Apparel Studies. "Examples include visiting factories in mainland China, working with designers, merchandisers, visiting showrooms, and working with compliance teams. In addition, the cultural experiences of eating Chinese food and working with and meeting Chinese people have been eye-opening."
In the short time since arriving in Hong Kong, Mara Lindel, a fashion merchandising major in the University's Honors Program, has already found success. As an intern writer for Inside Fashion magazine, Lindel was the author of two substantial articles in the July 2011 issue. The articles will be read globally, as the magazine is sent to subscribers in over 20 countries and published online. 
Her first article, titled "Trim Solutions," reports on the increasingly important role of technology in every facet of the apparel industry. The second, titled "On the Run," inspects the modern revolution of the active-wear industry, as emerging technology is uniting with classic products to improve athletic performance levels. 
Other interns this summer include Julie Cohen, Louisa Dodds, Stephanie Knebel, Kimberly Levergood, Shirin Lowell, Naomi Rosenhaus, Justine Scarfone, Jessica Smith, and Jessica Turner.
"I would encourage and challenge all fashion students to embrace the possibilities that await them in a place where the global market is currently most accessible," Bomberger advised. "All you need is a willingness to learn, a passionate interest in your industry field, and the ability to keep an open mind."
Article by Taylor Martel