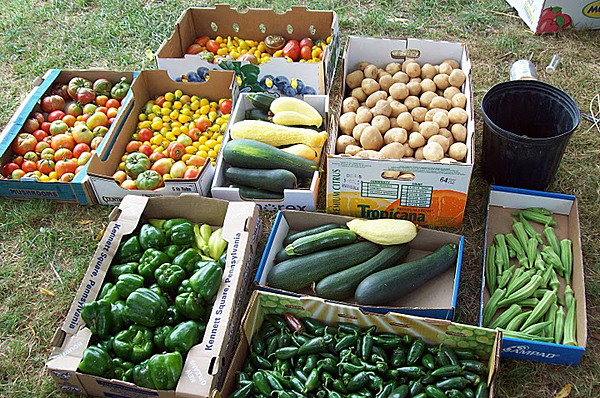 Nature's bounty
Mike Popovich of UD's Garden for the Community offers advice
11:13 a.m., July 25, 2011--This is the time of the year when vegetable gardeners are enjoying the full bounty of their harvest…or not.
Late July is peak season for produce in Delaware, with crops ranging from sweet corn to watermelon ripe for the picking. In some home gardens, it's hard to keep up with the bounty.  But in other plots, the corn is stunted, watermelon anemic and tomatoes full of worms.
From graduates, faculty
As it neared time for the processional to open the University of Delaware Commencement ceremonies, graduating students and faculty members shared their feelings about what the event means to them.
Doctoral hooding
It was a day of triumph, cheers and collective relief as more than 160 students from 21 nations participated in the University of Delaware's Doctoral Hooding Convocation held Friday morning on The Green.
No matter which description more closely matches your garden, Mike Popovich has some good advice, gained from two years of managing UD's Garden for the Community. 
UD's garden, which is a mere one-third of an acre, produced a whopping three tons of vegetables, fruits and herbs last year, all donated to the Food Bank of Delaware. Popovich is well on his way to meeting – or exceeding – that yield this summer.
If your backyard garden is of similar size, don't bother dreaming about such bounty. Popovich is the first to admit he has advantages over the home gardener. For one thing, undergraduate intern Renee Connor helps with planting, weeding, harvesting and other chores.
And then there's the large group of garden volunteers. "I have about 200 names on my volunteer email list; some help once, others come back frequently," he says. "Every Saturday morning, I can count on five to 10 regulars to weed and harvest." 
Not to mention that Popovich has a steady stream of Cooperative Extension professionals and UD agriculture researchers popping by to give advice and lend a hand.
But even without Popovich's advantages, you should expect a half-pound of edibles from every square foot of vegetable garden, according to stats from the National Gardening Association. 
If you're not getting a half pound, there are a slew of possible reasons, including pests, disease, weather and hungry critters.  But the single biggest culprit, says Popovich, is poor soil.
"Plants need soil, water and sun but soil quality is paramount," says Popovich. "The quality of a soil is determined by examining its fertility and texture. Basic nutrients required by plants include nitrogen, phosphorous, and potassium."
"In terms of texture, soil with a lot of sand – such as in Sussex County -- and soil with a lot of clay – like New Castle County -- both have their issues. Water moves too freely through sandy soil; in clay soil roots can have trouble growing."
Popovich does a soil test twice a season, once in spring and again in fall. He recommends a soil test for every home garden. "Too many people just grab fertilizers and amendments without any idea of the soil's deficiencies."
Even now, in mid-season, you can do a soil test. You may not be able to resolve all deficiencies but some problems can be successfully addressed during the middle of the growing season.
Novice gardeners frequently forget how important it is to scout to stay ahead of problems, says Popovich. "We practice integrated pest management (IPM) at the Garden for the Community," he says. "The most important tenet of IPM is scouting. Get out in the garden every day to check for pests and diseases. It's much easier to control a problem when it's small than when it's large."
As for those of you having a banner year and finding it hard to keep up with your garden's bounty, Popovich has three words of advice: give it away. The Food Bank of Delaware is always looking for additional donations of fresh produce, says Kim Kostes, community relations manager of the Food Bank of Delaware.
Support the Garden for the Community
UD's Garden for the Community will hold its second annual Evening in the Garden Aug. 11, from 6-9 p.m. Enjoy garden-fresh food, fine wine and live entertainment at this benefit for the Food Bank of Delaware. Cost is $40 per person. RSVP by Aug. 6. Call Kim Kostes at 302-444-8074 or email her at kkostes@fbd.org.
Garden Line
Get your vegetable questions answered from UD's Master Gardeners. Call the Master Gardeners' Garden Line in New Castle County at 302-831-8862. In Kent and Sussex, call 302-856-2585, ext. 535.
Article by Margo McDonough
Photo by Danielle Quigley