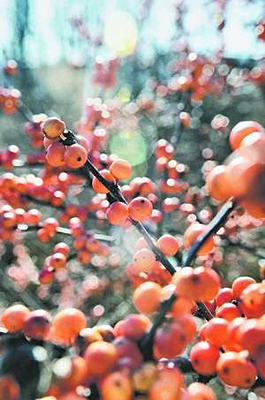 Winter attractions
UD horticulturalists see understated attractions of winter landscape
2:15 p.m., Jan. 24, 2012--The lyrics of "California Dreamin'" by John and Michelle Phillips are well known and appropriate for the season: "All the leaves are brown, and the sky is grey, California Dreamin' on such a winter's day."
Although many yearn to flee the First State during the long slog of winter, not everyone is dreaming of California. For every Delaware gardener poring over seed catalogs and wishing for spring, there's another gardener like John Frett who's outside every day enjoying the landscape, regardless of the weather.
From graduates, faculty
As it neared time for the processional to open the University of Delaware Commencement ceremonies, graduating students and faculty members shared their feelings about what the event means to them.
Doctoral hooding
It was a day of triumph, cheers and collective relief as more than 160 students from 21 nations participated in the University of Delaware's Doctoral Hooding Convocation held Friday morning on The Green.
Frett, the director of the University of Delaware Botanic Gardens (UDBG), loves winter and spends time in his yard or the botanic gardens every day, all year long. 
"I grew up in Chicago and lived in Maine for three years," says Frett. "Delaware doesn't know what cold weather is."
Beyond a hearty constitution for the cold, Frett has an appreciation for the understated attractions of the winter landscape.
"The structure of the trees, shrubs and woody plants are more evident in winter when there are fewer things competing for your attention," says Frett. 
At the 15-acre UD Botanic Gardens, the leaves are long gone (evergreens excepted) so it's easy to see that trees come in all shapes and sizes. There are columnar, round, conical, broad-spreading, upright-spreading, weeping and elliptical trees in the gardens. And a wide range of texture is now revealed, from the peel-away bark of the paperbark maple to the ridged and furrowed bark of the tulip poplar.
But it's not just a lack of competing attractions that makes the winter landscape visually arresting for Andrew Olson, public landscape manager for the Delaware Center for Horticulture. He points out that the weaker winter sun casts a different light on things.
"The lower angle of the sun in the winter really highlights grasses and garden structures," says Olson. "Even the silhouettes of trees 'pop' in the waning afternoon light. A garden or natural landscape that may seem brown and bleak can be spectacular as the sun rises or sets."
Carrie Murphy, New Castle County horticulture agent for UD Cooperative Extension, notes that a landscape's backbone is completely revealed in winter. "Everything is completely naked and the landscape's overall shape and structure becomes a focal point." 
"I also appreciate how sounds move through a winter landscape -- everything is much more audible -- the whipping winds, rustling leaves and movements of wildlife," she says.
Eileen Boyle looks for the small details in the landscape. "While the perennials sleep off the winter and the bulbs wait their turn, I am enjoying the daily show of the ferns, mosses and other little plants that are last to go dormant," says Boyle, a horticulturalist at Hagley Museum and Gardens.
Fellow Hagley horticulturalist Renee Huber says that she appreciates the structure of beech and sycamore trees in winter. 
"I always enjoy the sycamore trees against the Brandywine this time of year; they're like gentle giants with white and gray blotched bark," says Huber. 
Sue Barton, UD Cooperative Extension specialist for ornamental horticulture, likes the sycamore in winter, too. Other favorites include river birch, winterberry holly and the Emerald Sentinel variety of Eastern red cedar, which has vivid blue fruit.
Bob Lyons, director of UD's Longwood Graduate Program in Public Horticulture, admits that he doesn't much like winter. However, he does appreciate the architecture of trees now, especially when they're outlined by a wet snow.  He particularly enjoys sweet gum, tulip poplar and deciduous hollies. 
If the winter landscape looks enticing -- that is, until you read the forecast and hear the winds howl -- Olson has just two words of advice: "get outside." 
"Put on some layers and get out there," he says. "You will be so glad you did." 
Here are some of the things to see in the late-January landscape:
• At the Delaware Center for Horticulture's gardens, which are free and open to the public, a bloodtwig dogwood (Cornus sanguinea 'Winter Flame') gets lots of attention this time of year because of its intensely colored red and orange stems. Also look for the black pussy willow, which is beginning to display purplish black catkins. The Kentucky coffee tree, paperbark maple and river birch also look great this time of year, says Olson.
• Evergreen fans will want to check out the UD Botanic Gardens, which has a large collection of both conifer and broad-leaf evergreens. Native species include the loblolly pine and American holly. And you'll find many other hollies -- the UDBG features 50-plus varieties and is a test arboretum for the American Holly Society.
• At Hagley Museum and Gardens, snowdrops are in bloom in front of the Hagley residences and skunk cabbage is blooming in the woods and by the river. Boyle notes that the bright orange rose hips on old-fashioned antique variety roses provide perching and food for local birds.  Hagley arborist Richard Pratt loves Hagley's osage orange in wintertime. "It stands like a large bronze sculpture with its deeply furrowed copper-colored bark on its majestic trunk and its crown spreading high and wide into the sky," says Pratt.
Article by Margo McDonough
Photo by Danielle Quigley