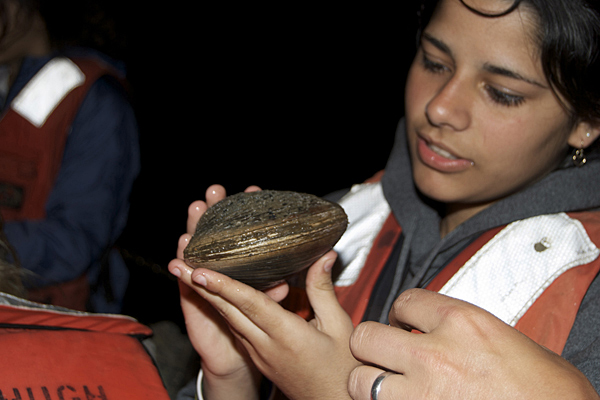 2012 TIDE Camp
High school students can explore ocean science at UD summer camp
8:35 a.m., Jan. 13, 2012--High school students interested in both science and the ocean can gain hands-on field experience at the University of Delaware's 2012 TIDE Camp. The two-week residential program gives high school students exposure to the scientific processes at work in the Delaware Bay. 
Applications are available now and due Monday, March 12.  This year's camp will take place July 15-27. 
From graduates, faculty
As it neared time for the processional to open the University of Delaware Commencement ceremonies, graduating students and faculty members shared their feelings about what the event means to them.
Doctoral hooding
It was a day of triumph, cheers and collective relief as more than 160 students from 21 nations participated in the University of Delaware's Doctoral Hooding Convocation held Friday morning on The Green.
TIDE, which stands for Taking Interest in Delaware's Estuary, lets students take part in classroom instruction, discussions and lectures, as well as field excursions, research lab visits and a tour of the University's research ship. Campers also have opportunities to interact with faculty and design and complete experiments.
Hosted by the University's College of Earth, Ocean, and Environment and supported by the Delaware Sea Grant College Program, TIDE covers a variety of topics including sea breezes, tides, habitat loss, saltwater marsh filtration, sediment transport, climate change and alternative energy. Information about UD program offerings also will be included.
Students spend one week at UD's Newark campus and one week at its Hugh R. Sharp campus, located at the mouth of the Delaware Bay in Lewes. While campers are expected to work hard, they are given opportunities for fun with recreational activities such as volleyball, bowling, movies and more.
Applications, which include completing a form available on the program's website, involve submission of a grade transcript and a letter of recommendation (preferably from a science or math teacher). Any high schooler with solid math and science skills and an interest in the marine environment may apply. Tuition is $1,750 and covers room, board, lab and class materials, field excursions, and scheduled out-of-class activities.
For more details about the camp, including application information, visit www.ceoe.udel.edu/tide or contact:
Dr. Franklin A. Newton
Assistant Dean for Student Services 
College of Earth, Ocean, and Environment
111 Robinson Hall
Newark, DE 19716
302-831-2841