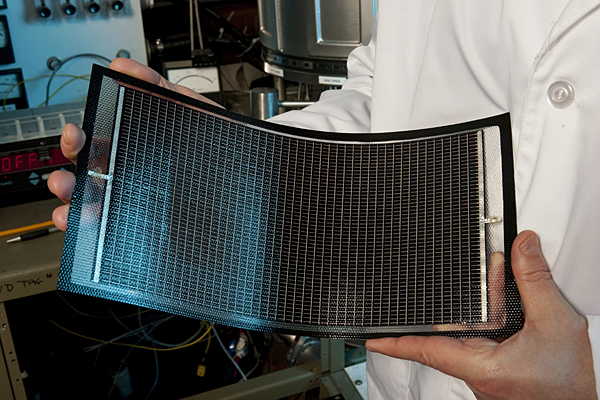 Solar energy
UD a partner in $18.5 million solar grant with Arizona State University
1:34 p.m., Jan. 30, 2012--University of Delaware materials scientist Robert L. Opila is leading efforts with colleagues at Arizona State University to create a new hybrid solar cell with distinct efficiency advantages.
Silicon solar cells, like those perched on top of homes and businesses, only capture up to 20 percent of sun's energy. Opila's work involves making traditional silicon solar cells thinner and then applying a tandem, thin-film organic solar cell on top that he says will create a huge surge in efficiency, potentially increasing energy capture from 20 to 30 percent.
Chronic wounds
UD's Millicent Sullivan and Kristi Kiick have received a $1.4 million grant from the National Institutes of Health for research that could provide a new approach to the treatment of chronic wounds.
Prof. Heck's legacy
The American Chemical Society is highlighting the legacy of the late Nobel laureate Richard Heck, the Willis F. Harrington Professor Emeritus of Chemistry at the University of Delaware with a digital tribute on its publications website.
"UD is setting world records for how long electrons stay excited in silicon," says Opila, professor of materials science.  "Improving collection of these long lived electrons will improve the efficiency of the solar cells dramatically."
It could also drive down solar costs "because only sixty percent of the area and materials will be needed to achieve the same result," he adds. 
Opila's work is part of an inter-university effort to develop technologies and manufacturing processes needed to dramatically increase the amount of solar photovoltaic energy supplying the nation's homes and businesses. Solar currently supplies less than one percent of the electrical energy needs of the United States, according to the National Science Foundation (NSF).
Arizona State University is leading the effort, which includes creation of an Engineering Research Center (ERC) called the Quantum Energy and Sustainable Solar Technologies (QESST). The project is funded by a joint $18.5 million grant from NSF and the Department of Energy (DOE).
UD, the Massachusetts Institute of Technology, the California Institute of Technology and the University of New Mexico are co-principal investigators. In all, the project includes collaborators from eight academic institutions and 40 industry partners.
"We don't want to continue with incremental changes, we want to drastically improve the way that energy is produced," remarked Opila. "The opportunity to work with like-minded colleagues devoted to helping solar become part of the real electrical grid is exciting."
The five-year grant will invest $1.65 million in solar funding at UD. In addition to Opila's work, UD researchers will also lead efforts to develop high efficiency thin-film solar cells and advance governmental policies to ensure solar energy technology is viable in the marketplace. 
The University of Delaware's Institute of Energy Conversion (IEC) has been a leader in the research and development of thin-film photovoltaic solar cells and other photonic devices since 1972. The UD IEC was recognized by DOE and the National Renewable Energy Laboratory in 1992 for its efforts in thin film photovoltaics, and was designated as a Center of Excellence for Photovoltaic Research and Education.
According to Opila, world records for high efficiency thin-film solar cells made from copper-indium-gallium-selenide (CIGS) have only recently reached twenty percent.
William N. Shafarman, a UD assistant professor in materials science and IEC scientist, is developing a way to increase this energy output of CIGS by enhancing the structure from a simple CIGS solar cell to a tandem CIGS solar cell. Shafarman predicts the new CIGS tandems can increase efficiencies from 20 percent to 30 percent. 
"Typically as you increase band gap, efficiency suffers dramatically, but we think we have a route forward here," explains Shafarman.
Babatunde A. Ogunnaike, interim dean of engineering and William L. Friend Professor of Chemical Engineering, will design a new state-of-the-art reactor to manufacture the new CIGS cells in conjunction with Robert Birkmire, director of IEC.
Clean energy economy expert John Byrne, director of the Center for Energy and Environmental Policy and Distinguished Professor of Energy and Climate Policy in the College of Engineering, will develop policies to successfully integrate solar into the marketplace in both the near and the long term.
Article by Karen B. Roberts
Photo by Kathy F. Atkinson