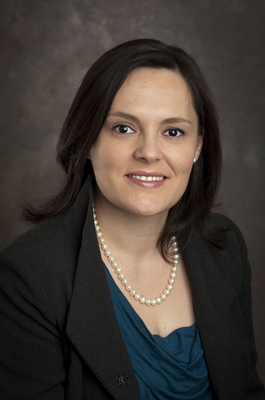 Palazuelos appointed director of research compliance
Administrator has expertise in compliance issues, nanotechnology
1:31 p.m., Jan. 27, 2012--Maria Palazuelos has been appointed the University of Delaware's new director of research compliance. Palazuelos succeeds Elizabeth Peloso, who is now the director of export compliance at the University of Pennsylvania.
"We are delighted to welcome Dr. Palazuelos to the University of Delaware," said Mark Barteau, vice provost for research and strategic initiatives. "She brings a tremendous combination of expertise and experience to UD, as a former research administrator at the University of Florida, and as a chemical engineer with a specialization in nanotechnology, one of science's hottest fields. She will play a critical role in developing, implementing and monitoring policies and procedures pertaining to the responsible conduct of research at UD."
Chronic wounds
UD's Millicent Sullivan and Kristi Kiick have received a $1.4 million grant from the National Institutes of Health for research that could provide a new approach to the treatment of chronic wounds.
Prof. Heck's legacy
The American Chemical Society is highlighting the legacy of the late Nobel laureate Richard Heck, the Willis F. Harrington Professor Emeritus of Chemistry at the University of Delaware with a digital tribute on its publications website.
Palazuelos holds bachelor's and doctoral degrees in chemical engineering. She completed her undergraduate education at the University of Cantabria, Spain, and at Delft University of Technology, the Netherlands. She then came as an invited student to the United States, earning her doctorate at the University of Florida with a scholarship from the National Science Foundation (NSF).
Her research specialization is the characterization of nanotechnology at the biointerface, with a focus on toxicity studies of nanomaterials. As an engineer-scientist working on projects of a biological nature, she has hands-on lab-bench and supervisory experience involving controlled substances and living subjects.
As a member of the central research administration at the University of Florida, Palazuelos assisted in the procurement of more than $25 million in federal and state funding; organized and conducted annual university-wide evaluations of centers and institutes; and was instrumental in the development and implementation of interdisciplinary research programs. 
She also served as a member of the Particle Engineering Research Center's executive board, as industry program manager for the Center for Nano-Bio Sensors, a $4.5-million enterprise focused on translating nano/bio innovations to market, and as Florida site director of the NSF Industry/University Cooperative Research Center for Particulate and Surfactant Systems led by the University of Florida in collaboration with Columbia University. 
"I'm very excited to be a member of the University of Delaware," Palazuelos said. "This is a great institution, and I'm very impressed with the level of research activity, the dynamic environment and the plans for growth. I look forward to working with the research community and helping to advance the University's research mission."
Palazuelos is a member of the research and regulatory affairs team led by Cordell Overby, associate provost for research and regulatory affairs. She is based in the UD Research Office in 210 Hullihen Hall and may be reached at 302-831-8619 or mariapj@udel.edu.