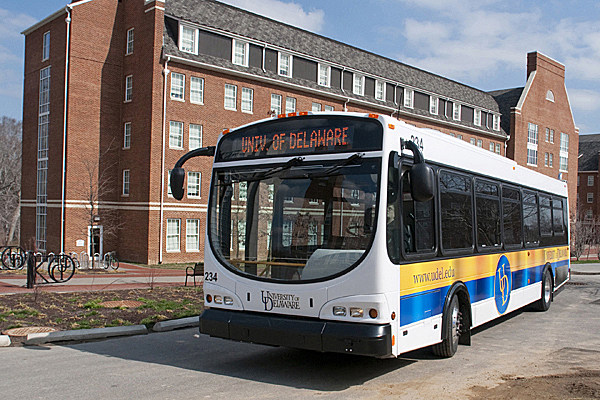 Parking, transportation changes
UD implements changes with bus schedules, non-permit parking
9:31 a.m., Jan. 3, 2012--With the new calendar year, Parking and Transportation Services at the University of Delaware is making some changes to its shuttle bus schedule and visitor parking rates in an effort to maintain a high level of customer service while being cost effective.
"Parking and transportation go hand in hand," said Richard Rind, director of Parking and Transportation Services. "These changes with buses and visitor parking will help us keep the cost of permit parking down for faculty, students and staff."
June 6: UDid It! Picnic
All UD faculty and staff members are invited to attend the annual UDid It! employee appreciation picnic, set from 11 a.m.-1:30 p.m., Monday, June 6, on The Green.
2FA protects you
If you are using two-factor authentication (2FA), even if a hacker has your password, your information is probably safe.
Through careful analysis of previous ridership levels of UD shuttles, several routes will be modified for Winter Session as well as the spring semester. 
For Winter Session 2012, a special evening route will operate seven days a week in place of the Evening 1 and 2 and Hen after 10 routes. The Wilmington Train Station and Shopping Center Express routes will not run.  All other routes will operate similar to fall 2011 schedules.
For spring, the Hen after 10 will operate on Thursdays, Fridays and Saturdays, and an enhanced evening service offering a full loop will run Sunday through Wednesday.  On nights when the Hen after 10 is available, evening service will operate on a full loop until midnight. Also, service to the Wilmington Train Station will return, now requiring reservations, and the Shopping Center Express will be discontinued. 
Beginning in January, pay-to-park lots on UD's campus will increase a quarter per half hour; metered parking rates will change to 25 cents per 10 minutes. 
"It's important to note that these changes will not impact permit parking for faculty, staff and students for the remainder of the 2011-2012 academic year," Rind said. "We've made every effort to keep the same quality of service we provide for parking and transportation on campus while managing these costs to the UD community."
For more information on the changes for 2012, visit the UD Parking and Transportation Services website.