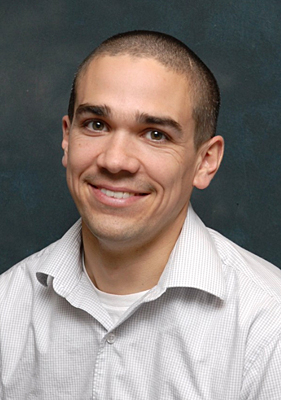 Winter torpor
Many Delaware mammals go into winter torpor, a few hibernate
11:40 a.m., Jan. 17, 2012--If you feel like breaking out the Snuggie and hibernating this time of year, you have plenty of company. In the winter, Delaware's chipmunks, raccoons and skunks go into a semi-hibernation state called torpor. Other mammals, such as deer, move around less than usual. As for "true hibernators," Delaware has a few creatures that may qualify, such as groundhogs and some species of bats.
"True hibernators can exist in a state of deep sleep for several months, with body temperatures so low their metabolisms are almost at a standstill," says Kyle McCarthy, a UD assistant professor of wildlife ecology.
From graduates, faculty
As it neared time for the processional to open the University of Delaware Commencement ceremonies, graduating students and faculty members shared their feelings about what the event means to them.
Doctoral hooding
It was a day of triumph, cheers and collective relief as more than 160 students from 21 nations participated in the University of Delaware's Doctoral Hooding Convocation held Friday morning on The Green.
For example, during hibernation, a big brown bat's heartbeat might slow to only 8 beats a minute from a normal 210 beats per minute. Its body temperature may plummet from nearly 100 degrees Fahrenheit to just 32.
True hibernators do wake up – ever so briefly -- periodically during the winter. 
"When they wake up, some hibernators take a quick drink or eat a small amount of food," says McCarthy. "The timing for these short periods of wakefulness has little to do with the air temperature. Rather, the animal's internal clock wakes it up to metabolize proteins that have accumulated in the body."
"There aren't as many true hibernators here as there is further north because our weather isn't that harsh," notes McCarthy. 
Even Delaware's "true hibernators" sometimes act more like semi-hibernators, according to Holly Niederriter, a wildlife biologist with the state Division of Fish and Wildlife.
"Big brown bats and red bats are sometimes seen foraging on warm, winter days," says Niederriter.  "Maybe these are just quick awakenings but we don't really know."
Some local bats, including red bats, are tree dwellers. In winter, they abandon their summertime roosts and hibernate under deep piles of leaf litter. (To make things a bit more confusing, some of Delaware's red bats don't hibernate here but instead migrate south each winter.)
Other species of Delaware bats are cave dwellers, including the big brown, little brown, tri-colored and Northern long-eared. These bats like to hibernate in caves and move to trees or buildings in summertime, says Erin Adams, a research assistant who works with Niederriter at the Division of Fish and Wildlife.
Since Delaware is home to just a couple of very small caves, most of these bats are thought to head to caves or mines in Pennsylvania, Maryland, New Jersey and Virginia. However, numerous big brown bats do over-winter in the First State. The occasional tri-colored bat also has been documented here in winter.
"A colony of big brown bats hibernates at Fort Delaware each winter," says Adams. "The bats wedge themselves in-between the bricks, where the mortar has crumbled. They don't huddle in groups, instead they're scattered throughout the property."
In addition to documented sightings of big brown bats at Fort Delaware and other locales, plenty of "undocumented" big browns hibernate in basements and other dark spots in buildings. 
Often, no one knows they're there – unless one of their periods of wakefulness occurs when people are around.
"I always seem to get a call after the New Year about a big brown bat 'crashing' a holiday party," says Adams. "People can't understand why the bat is flying around their house if it's supposed to be hibernating."
Whether an animal goes into torpor or true hibernation, all prepare for the long winter by piling on the pounds. In the case of bats, that means adding about 25 percent to their body weight.
Animals hibernate as an adaptation strategy, says McCarthy. In the winter, when little food is available, their bodies conserve energy by lowering their metabolisms. For animals that aren't hibernator such a lowered body temperature and metabolism would mean death but hibernators have evolved this intricate strategy to survive the harshest months.
In contrast, animals that remain fairly active in the winter, such as beavers and muskrats, generally can count on access to a reliable food source. 
"Muskrats eat vegetation and roots from the bottom of ponds as long as the water doesn't freeze solid," says McCarthy. "This vegetation is available throughout the winter so there is no need for the muskrat to hibernate. Beavers take a different approach; they stockpile their winter food – bark and twigs -- by creating piles of sticks and logs in ponds."
Article by Margo McDonough