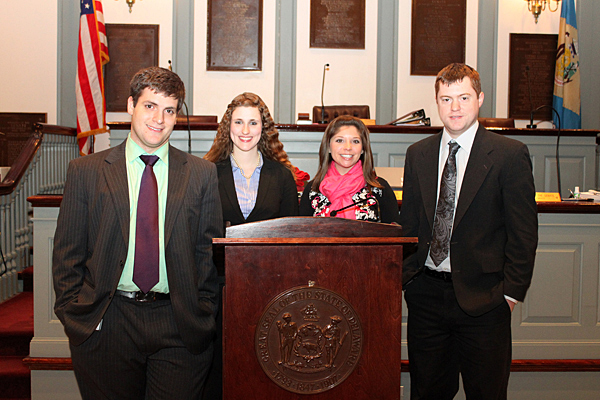 Political experience
University's Legislative Fellows Program a proven training ground
2:12 p.m., Jan. 6, 2012--As the new legislative session prepares to kick off Jan. 10 in Dover, four of last year's 12 University of Delaware Legislative Fellows are gaining their initial post-graduate experience working for the Delaware General Assembly. They earned their degrees in the College of Arts and Sciences.
David Bentz, who received his master of public administration degree with a concentration in state and local management, is working for the House Majority Caucus.  Lauren Cutajar-Wynne and Damian DeStefano, who each received an undergraduate degree in political science, are working for the House Majority Caucus.  DeStefano received an economics degree in 2011 as well.  Heather Lehman, who also received her bachelor's degree in political science, is working for the Senate Minority Caucus.
'Resilience Engineering'
The University of Delaware's Nii Attoh-Okine recently published a new book with Cambridge University Press, "Resilience Engineering: Models and Analysis."
Reviresco June run
UD ROTC cadets will run from New York City to Miami this month to raise awareness about veterans' affairs.
Each had worked during the 2011 session through UD's Legislative Fellows Program, a competitive internship that provides students the opportunity to assist legislators in dealing with critical issues facing the state.  Last year the program celebrated its 30th year of partnership between the Delaware General Assembly and the University.  
Legislative Fellows is a flagship program of the University and is managed by the School of Public Policy and Administration's Institute for Public Administration (IPA).
"The Legislative Fellows Program is a wonderful example of the value of collaboration," says Joseph Pika, CAS associate dean for the social sciences. "IPA recruits outstanding students from across the college; those students gain valuable work experience in state government, learning important life skills including the value of public service. Ultimately, students benefit, legislators benefit and the public benefits."
"Historically, many former fellows have secured post-college positions within the state government," IPA Director Jerome Lewis says, "though most go on to successful careers elsewhere." 
Lewis adds, "The fact that a third of last year's fellows were hired immediately by the General Assembly speaks volumes not only about this program's importance to the state but of the high caliber of University of Delaware students chosen. We're very proud of them, and they serve as role models for current and prospective fellows."
In fact, Lehman, who works directly with State Senators Joseph W. Booth, Colin R.J. Bonini and David G. Lawson, had so impressed as a fellow that she was hired last March, prior to graduation.  Reflecting a bit of the angst within the current job market, Lehman says, "I feel very fortunate to have found something within my field of interest…." and quickly adds, "Having 'Legislative Fellows' on my resume was really a plus."
Bentz echoed that sentiment. "Having been a fellow makes you more qualified than other applicants."  DeStefano added, "You have a real 'leg up' in state government, in that you're familiar with [the legislators], and they're familiar with you."  Bentz works directly with State Representatives Earl G. Jaques, John A. Kowalko and Teresa Schooley, and DeStefano with Representatives E. Bradford Bennett and Darryl M. Scott.
Whereas the other three graduates work for particular legislators within their respective caucuses, Cutajar-Wynne holds a specific position within the House Majority—special projects and data manager. "I am so grateful to be a staffer for the House Majority Caucus," she says, "and I know the cohort of new Legislative Fellows will find their work in the state legislature transformative."
Selected through a competitive University-wide process, fellows are assigned to work directly with the state's policymakers in one of the legislature's four caucuses. Carpooling to Dover three days a week during the legislative session, fellows provide in-depth, nonpartisan research on issues of concern to the state's legislators and citizens, staff committees, and respond to constituent concerns. The broad range of public policy issues they research includes energy assistance to low-income households, credit fraud and identity theft, and education reform. 
According to IPA associate policy scientist Lisa Moreland, co-manager of the Legislative Fellows Program and a former Legislative Fellow, the assembly entrusts its fellows with an unmatched level of responsibility. "The kind of research our fellows are involved in is usually done by full-time professionals in other states. It's a fantastic opportunity for our students and a good value for the legislature," she says.
Twelve new Legislative Fellows will be working with the 146th General Assembly during its current session.  They are profiled on the Legislative Fellows Program website. 
Article and photo by Mark Deshon