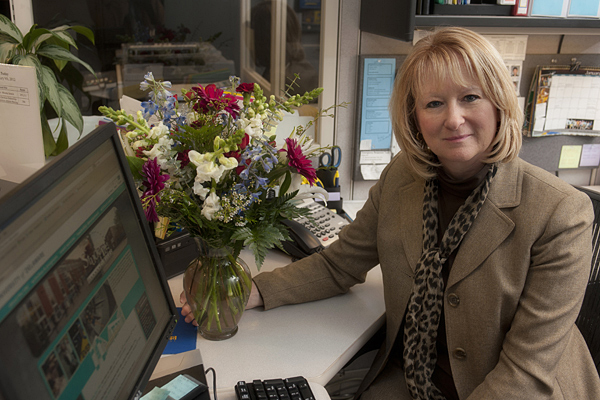 HR Liaison of the Quarter
University Student Centers executive secretary named HR Liaison of Quarter
9:12 a.m., Jan. 12, 2012--Alison Hill, executive secretary with University Student Centers, has been named the University of Delaware Human Resources Liaison of the Quarter for the last quarter of 2011.
Liaison of the Quarter honors are given to exemplary members of the University's Human Resources team.
June 6: UDid It! Picnic
All UD faculty and staff members are invited to attend the annual UDid It! employee appreciation picnic, set from 11 a.m.-1:30 p.m., Monday, June 6, on The Green.
2FA protects you
If you are using two-factor authentication (2FA), even if a hacker has your password, your information is probably safe.
Marilyn Prime, director of University Student Centers, said Hill has shown exceptional commitment in establishing order and consistency within the Student Centers human resources areas.
"Alison's expertise has included managing the recruitment process on numerous occasions, developing a new monthly leave reporting process, providing timely reports to staff, as well as attending HR meetings and communicating accurate information to Student Centers employees," Prime said. "By assisting staff members and student employees, establishing trusts and presenting a positive attitude, Alison exhibits thoughtful, thorough and positive HR performance." 
William (Gil) Johnson, associate director of University Student Centers, said that Hill's handling of the recruitment and reclassification processes makes what seems like a daunting process seem almost effortless.
"Alison is a quintessential professional who strives to always be helpful, friendly and dedicated," Johnson said. "She is an asset to the UD Student Centers and is truly deserving of this recognition."
Scott Mason, associate director of University Student Centers, said that besides keeping excellent records, Hill keeps search committees and area supervisors up to date on HR practices.
"If anyone needs any information concerning HR, Alison can provide it in a timely manner, often within minutes," Mason said. "She is a superb liaison." 
Hill said she appreciates being recognized by so many individuals in her department.
"Student Centers is a vibrant environment, especially when the newest student representatives for the Registered Student Organizations come in," Hill said. "This is such a great department to work in because everyone works together as a team, and everyone wants to help."
Article by Jerry Rhodes
Photo by Kathy F. Atkinson