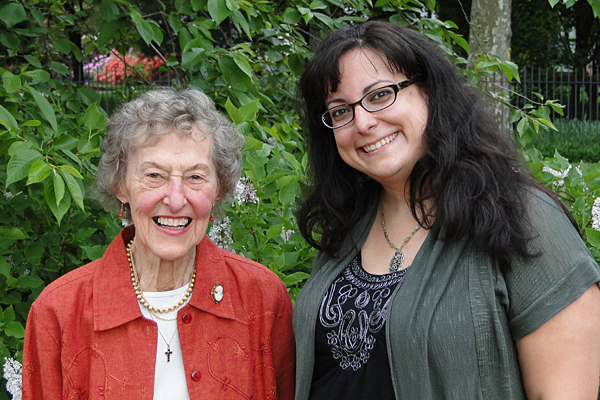 Helping people can help you
Financial award nominations open to students in field of human development
3:52 p.m., Jan. 5, 2012--Monetary awards and scholarship nominations are currently open for University of Delaware students involved in the field of human development.
Although coordinated by the Department of Human Development and Family Studies (HDFS) in UD's College of Education and Human Development, not all of the awards are limited to HDFS majors.
From graduates, faculty
As it neared time for the processional to open the University of Delaware Commencement ceremonies, graduating students and faculty members shared their feelings about what the event means to them.
Doctoral hooding
It was a day of triumph, cheers and collective relief as more than 160 students from 21 nations participated in the University of Delaware's Doctoral Hooding Convocation held Friday morning on The Green.
• Sophomore and junior human services majors with an interest in disabilities services are invited to apply for the Swank Human Services Disabilities Scholarship. The Swank is a merit-based scholarship that provides financial support including tuition, books, fees and related expenses for up to two years.
• Any UD undergraduate or graduate students who has demonstrated a commitment to the field of human sexuality and gender studies and an appreciation for diversity and for the betterment of society can apply for the Julie Mapes Wilgen Award in Human Sexuality and Gender Studies. 
• HDFS majors who have demonstrated leadership in their field and meet the requirements can apply for the Lila C. Murphy Award for Women's Equity and Leadership or the Catherine Bieber Scholarship for Academic Achievement and Leadership in Human Development and Family Studies.
• Graduate students with advanced standing in HDFS who, by reason of scholarship ability, professional orientation, communication skills, and personal commitment to becoming a strong advocate for children, may qualify for the Strattner-Gregory Graduate Child Advocacy Award.
• Students who are human services majors and have demonstrated outstanding service to the local community may qualify for the Lila C. Murphy Community and Family Services Scholarship.
• Students who have a major in HDFS, fashion and apparel studies, nutrition and dietetics, or hotel, restaurant and institutional management, or a minor in HDFS, and who are proud of a paper or poster completed for class are welcome to submit their paper or poster to the annual Marion H. Steele Symposium.  Monetary awards are given to the best graduate and undergraduate submissions in each category.
The application deadline for HDFS department awards is Wednesday, Feb. 15. 
For more information on these awards and scholarships, including the nomination forms, visit the HDFS award website, email the HDFS office or call 302- 831-6500.