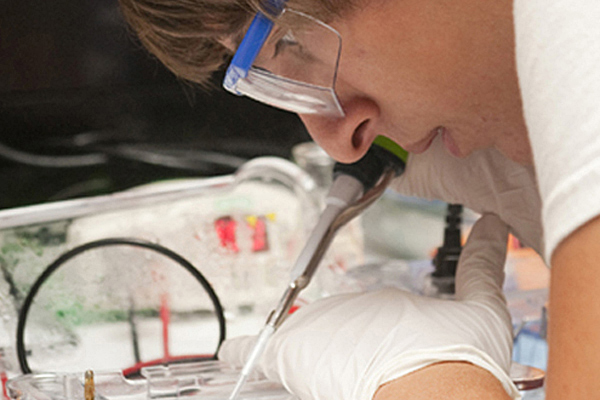 Name change
Chemical engineering now Department of Chemical and Biomolecular Engineering
12:50 p.m., Jan. 26, 2012--The University of Delaware's Department of Chemical Engineering is ranked among the top 10 programs in the United States and boasts a world-wide reputation and reach.
Faculty and students are well-published with an impressive research portfolio impacting all areas of engineering sciences – from biomolecular and metabolic engineering to energy and catalysis; from green engineering and nanostructured materials to complex fluids and polymers.
From graduates, faculty
As it neared time for the processional to open the University of Delaware Commencement ceremonies, graduating students and faculty members shared their feelings about what the event means to them.
Doctoral hooding
It was a day of triumph, cheers and collective relief as more than 160 students from 21 nations participated in the University of Delaware's Doctoral Hooding Convocation held Friday morning on The Green.
Over the past decade, the department has evolved to include significant activities in molecular-level engineering education and research rooted in the biological sciences, leading to a recent name change to the Department of Chemical and Biomolecular Engineering.
Approved by the University Faculty Senate effective December 2011, the name change reflects a growing national trend in engineering departments. At UD, the new identity recognizes the excellence in which the flagship department is rooted, while acknowledging the emergent role of biomolecular engineering in transforming and improving today's world.
"This name change will improve our department's impact both within UD and globally," said Norman J. Wagner, Alvin B. and Julia O. Stiles Professor and department chair. "It will enhance our competitiveness in attracting outstanding bio-oriented graduate and undergraduate students and complement and strengthen the University's biomedical engineering degree program."
There has been a significant expansion in the department's focus to integrate the biological sciences into engineering since 2004. One quarter of the department's faculty and students now identify with biomolecular engineering, while many more collaborate on biomolecular and biomaterials related research. From Alzheimer's disease to zeolite catalysts, UD chemical and biomolecular engineers are leading challenging research, writing textbooks and educating the next generation of talent.
This research enterprise currently generates over $3.5 million in total research expenditures and supports more than 45 doctoral students and 10 post-doctoral fellows within the department. Nearly half of all students who graduate with a bachelor's degree in chemical engineering have completed a biochemical engineering minor since the minor's inception in 2003.
In 2010, the department added biological science as a fourth "scientific pillar" of the undergraduate curriculum, placing it on par with chemistry, physics and mathematics, and making biological sciences a requirement for incoming students.
In a letter of support, Robin Morgan, dean of the College of Agriculture and Natural Resources at UD, remarked that the new name "reflects the department's broadened scope" which she believes will "draw emphasis to and benefit life sciences in general at UD."
The change comes at a time of great anticipation, as the chemical engineering department looks forward to its centenary celebration in 2014. The Board of Trustees proclaimed the chemical engineering degree program in 1914 and the first graduating class marched in 1915. Plans for a commemorative book highlighting the department's 100-year history are already underway. To learn more, view the centenary project link on the department's new website.
"Changing a department name is a rare occurrence, one not undertaken lightly," remarked Babatunde A. Ogunnaike, interim dean and William L. Friend Professor of Chemical and Biomolecular Engineering. "The timing is perfect as we reflect on our past excellence and forge ahead to realize our vision for the future, one that empowers our faculty and students to be leaders and innovators on the world stage."
Article by Karen B. Roberts
Photo by Evan Krape