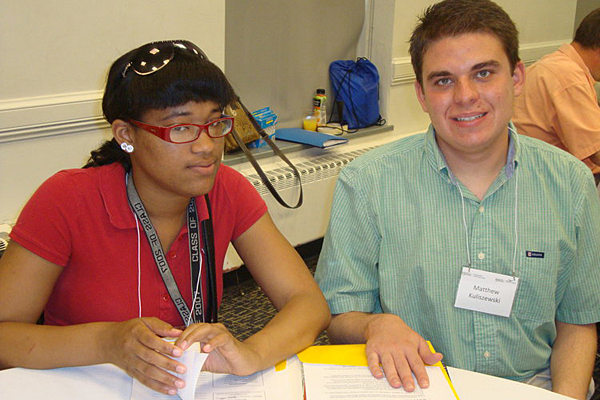 Higher ed access
Career and Life Studies Certificate program accepting applications
8:13 a.m., Jan. 6, 2012--Young adults with intellectual disabilities have few opportunities to enjoy the typical college experience—attending classes, participating in internships and having an active social life.  Fortunately for these young adults, the University of Delaware now offers a two-year Career and Life Studies Certificate (CLSC) program, designed to provide a meaningful credential to students, engage them in social activities, and help them attain gainful employment.
The CLSC program offers specialized coursework in career studies and life skills, as well as other inclusive learning opportunities on campus, including participation in UD undergraduate classes, clubs and activities. An individualized plan is created with each student that includes peer mentoring, staff coaching and support as identified through person-centered planning. 
From graduates, faculty
As it neared time for the processional to open the University of Delaware Commencement ceremonies, graduating students and faculty members shared their feelings about what the event means to them.
Doctoral hooding
It was a day of triumph, cheers and collective relief as more than 160 students from 21 nations participated in the University of Delaware's Doctoral Hooding Convocation held Friday morning on The Green.
Funded through a five-year, $2.3 million grant by the U.S. Department of Education, this program is now accepting applications for its second class of students. 
Applications for the 2012-2013 academic year are being accepted through Jan. 31. 
To learn more about the program, prospective students, families, school staff and community members are invited to attend an open house on Thursday, Jan. 12, from 4 to 8 p.m., at 318 South College Ave., Newark. Those who plan to attend should contact Mary Thomas at maryt@udel.edu.
About the CLSC program and funding
The U.S. Department of Education awarded more than $10.5 million to 27 two- and four-year institutions of higher education or consortia of institutions as part of the Transition Programs for Students with Intellectual Disabilities (TPSID). UD is one of 27 participants that are developing programs that focus on academics and instruction, social activities, employment experiences through integrated work-based learning and internships, and independent living. 
CLSC is coordinated through the College of Education and Human Development, School of Education, Center for Disabilities Studies and the Division of Professional and Continuing Studies.
Article by Alison Burris