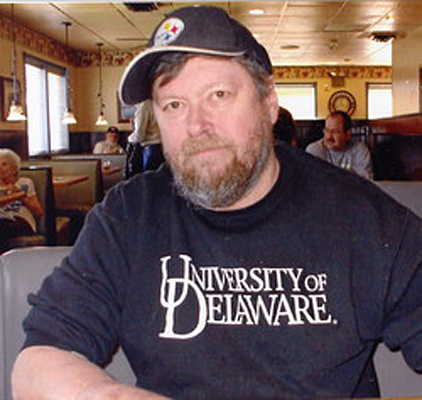 Memorial service
Service for Prof. Patrick J. White set Feb. 3 in Memorial Hall
7:47 p.m., Jan. 31, 2012--A memorial service for Patrick J. White, assistant professor of English at the University of Delaware, will be held at 4:30 p.m., Friday, Feb. 3, in Room 127 of Memorial Hall on the Newark campus. 
Dr. White, 59, died Jan. 29, in intensive care at Christiana Hospital in the company of his wife, Ellen Fox, and his sister, Tina Daniels. After complications from surgery in 2008, both his legs were amputated below the knee, along with part of his right hand. Recently, after injuring his shoulder in a fall at home, he had two more operations from which he did not recover.  
From graduates, faculty
As it neared time for the processional to open the University of Delaware Commencement ceremonies, graduating students and faculty members shared their feelings about what the event means to them.
Doctoral hooding
It was a day of triumph, cheers and collective relief as more than 160 students from 21 nations participated in the University of Delaware's Doctoral Hooding Convocation held Friday morning on The Green.
A graduate of Millersville State College, Dr. White earned both his master's and doctoral degrees in English at UD in 1988 and 1993, respectively. 
Since 1986, he had served as a supplemental faculty member in the Department of English, teaching in UD's Associate in Arts program in Wilmington and most recently as an assistant professor on the Newark campus.  He received  the University's Excellence in Teaching Award in 1997 and again in 2003.
Donations in Dr. White's memory may be made to the Department of English, University of Delaware, Memorial Hall, Newark, DE 19716.
Condolences may be left online at the Spicer-Mullikin Funeral Homes website.