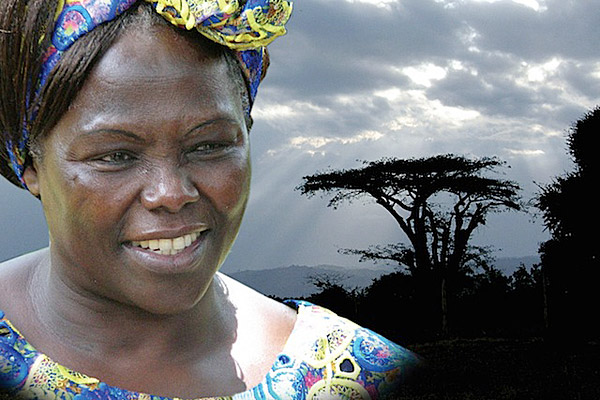 Feb. 21-March 20: Women's History Month
'Women's History, Women's Lives' film series announced
9:57 a.m., Feb. 17, 2012--The 26th annual Women's History Month film series, "Women's History, Women's Lives," will be held Feb. 21 through March 20 in Kirkbride Hall on the University of Delaware campus in Newark.
Films will be shown at 7 p.m., Tuesdays, in 006 Kirkbride Hall.
From graduates, faculty
As it neared time for the processional to open the University of Delaware Commencement ceremonies, graduating students and faculty members shared their feelings about what the event means to them.
Doctoral hooding
It was a day of triumph, cheers and collective relief as more than 160 students from 21 nations participated in the University of Delaware's Doctoral Hooding Convocation held Friday morning on The Green.
Each film will be followed by a discussion. The series is free and open to the public.
Films will be shown as follows:
• Feb. 21 -- Taking Root: The Vision of Wangari Matthai. On Sunday Sept 25, 2011, the Earth lost one of its greatest champions, Nobel Peace Prize Laureate Wangari Muta Maathai, founder of the Green Belt Movement of Kenya and the first environmentalist and first African woman to win the Nobel Peace Prize. Taking Root tells the story of that movement. Through the simple act of planting trees, Maathai and her group of rural women co-workers addressed deforestation, poverty, and ignorance, while also challenging embedded economic interests and government corruption. Eventually, they became a national political force that helped to bring down Kenya's 24-year dictatorship. Taking Root captures a world-view in which nothing is perceived as impossible and presents an awe-inspiring profile of Maathai's 30-year journey of courage to promote environmental awareness, human rights, and democracy. Speaker will be Wunyabari Maloba, UD professor of history.
• Feb. 28 -- When I Rise. Barbara Smith Conrad was a gifted musician and singer attending the University of Texas at Austin in 1957. Scheduled to sing opposite a white classmate as co-star of the music department's annual opera, she found herself in a racial firestorm when members of the Texas legislature challenged the casting decision. Expelled from the cast, she emerged from the controversy with grace and determination, becoming an internationally renowned mezzo-soprano and an inspiring presence in the opera world. Speaker will be Erik McDuffie, UD associate professor of Black American Studies and history.
• March 6 -- Triangle Fire. On March 25, 1911, two years after New York garment workers led a massive strike seeking improved wages and safety conditions in "sweatshop" factories, a fire broke out at the Triangle Shirtwaist Factory in lower Manhattan. Although extinguished within thirty minutes, the fire left 146 people dead, most of them young immigrant women working to help support their families. Many of the victims leaped to their deaths to escape the fast-moving fire; others perished because the factory owners kept exit doors locked. The film chronicles the fierce activism of young women workers, the horrors of the fire itself, the outrage that gripped the entire city during the victims' funerals, and the fire's enduring legacy enshrined in new workplace safety laws. Speaker will be Arwen Mohun, UD associate professor of history.
• March 13 -- Miss Representation. Why are women so under-represented in positions of power and influence in the U.S. today? At present the U.S. ranks 90th in the world in the representation of women in national legislatures. Women hold only 3 percent of top positions in the mainstream media. At the same time, eating disorders are common in our society. Miss Representation argues that the mainstream media convey the damaging message that women's value lies in their appearance and sexuality, not in their capacity as leaders. Through interviews with journalists, academics and activists including Nancy Pelosi, Katie Couric and Rachel Maddow, the film challenges the media portrayal of women. Winner of an audience award at the Sonoma Film Festival in 2011, Miss Representation was presented on the Oprah Network in October, 2011. Speaker will be Dionne C. Clemons, assistant professor of mass communications at Towson University.
• March 20 -- Beyond Belief. After two "soccer moms," Susan Retik and Patti Quigley, lost their husbands in the events of 9/11, grief compelled them to focus on Afghanistan, the country where the terrorists who took their husbands' lives were trained. Over the course of two years these extraordinary women dedicated themselves to empowering Afghan widows. As they made the courageous journey to the most desperate Afghan villages, they discovered a powerful bond with each other, an unlikely kinship with widows halfway around the world, and a profound way to move beyond tragedy. From the ruins of the World Trade Center to those of Kabul and back, theirs is a journey of personal strength and international reconciliation, and a testament to the vision that peace can be forged one woman at a time. Speaker will be Patricia Sloane-White, UD assistant professor of anthropology.
For more information about the "Women's History, Women's Lives" film series, call 831-8474. For a flier about the series in PDF format, click here.
The series is sponsored by the UD departments of Anthropology, Black American Studies, History, Music, Political Science and International Relations, Plant and Soil Sciences, Sociology and Women's Studies; by the Faculty Senate Committee on Cultural Activities and by the Office of Equity and Inclusion.
Photo by Lisa Merton