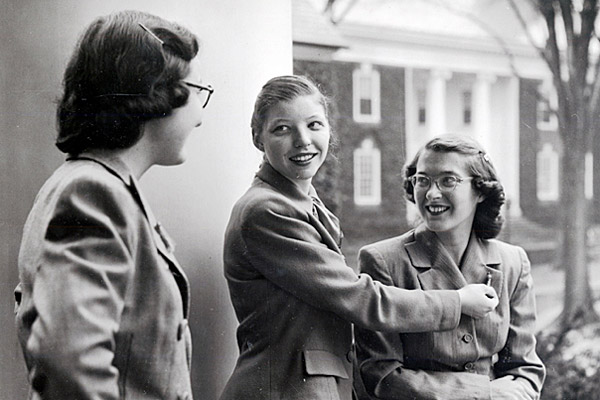 'Women's Empowerment'
University Library announces Women's History Month exhibition
10:34 a.m., Feb. 23, 2012--The University of Delaware Library announces the forthcoming exhibition "Women's Education -- Women's Empowerment," which will be on view from March 1-31 in the Information Room on the first floor of the Morris Library.
The exhibition will celebrate Women's History Month and will recognize the essential role higher education has played in granting women political, economic and social agency -- and the biases, stereotypes and pseudoscience women have faced to be educated equally with men. 
From graduates, faculty
As it neared time for the processional to open the University of Delaware Commencement ceremonies, graduating students and faculty members shared their feelings about what the event means to them.
Doctoral hooding
It was a day of triumph, cheers and collective relief as more than 160 students from 21 nations participated in the University of Delaware's Doctoral Hooding Convocation held Friday morning on The Green.
The exhibition features materials from Special Collections that highlight women at the University of Delaware, particularly the Women's College, which operated from 1914 until its 1945 incorporation when the University became co-educational. 
"Women's Education -- Women's Empowerment" is curated by Maureen Cech, assistant librarian, Special Collections Department. Also from the Special Collections Department, Laurie Rizzo, assistant librarian, worked on the design and installation of the physical and virtual exhibition.
The exhibition is available online.
About the Special Collections Department
Holdings of the Special Collections Department of the University of Delaware Library include books, manuscripts, maps, prints, photographs, broadsides, periodicals, pamphlets, ephemera and realia from the fifteenth to the twenty-first century. The collections complement the Library's general collections with particular strengths in the subject areas of the arts; English, Irish and American literature; history and Delawareana; horticulture; and history of science and technology.