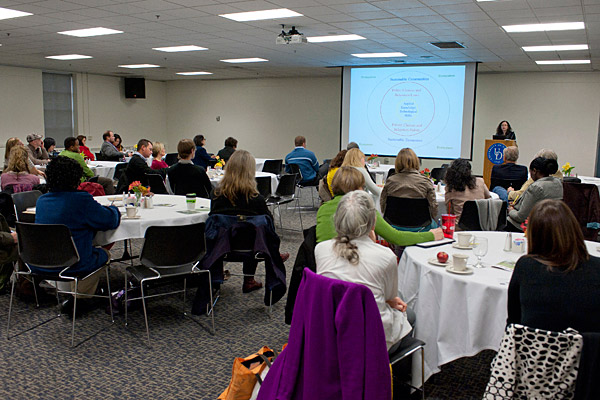 Promoting sustainability
Volunteers needed to plan second Regional Institute on Sustainability
3:18 p.m., Feb. 2, 2012--The University of Delaware Sustainability Task Force is looking for volunteers to help plan the Regional Institute on Sustainability (RSI) to be held on the UD campus during the fall semester.
After the success of the 2011 Regional Institute on Sustainability in Higher Education, the Sustainability Task Force (STF) has committed to hosting a 2012 institute.  In addition to chairs for the overall event, STF is looking for chairs and members for the following subcommittees: 
June 6: UDid It! Picnic
All UD faculty and staff members are invited to attend the annual UDid It! employee appreciation picnic, set from 11 a.m.-1:30 p.m., Monday, June 6, on The Green.
2FA protects you
If you are using two-factor authentication (2FA), even if a hacker has your password, your information is probably safe.
Oral presentation session
Poster session
Travel and conference services
Fundraising
Marketing and publicity
Partnership development with regional schools (see below)
Organizational meetings will begin soon. This year's committee hopes to develop partnerships with regional schools with the intent of rotating institute hosting and planning duties.
The primary goal of the institute is to bring action-oriented faculty, staff and students from regional institutions together to network and share experiences regarding campus sustainability initiatives. Last year, Debra Rowe, president of the U.S. Partnership for Education for Sustainable Development, energized those in attendance during her keynote speech to passionately engage in small breakout session discussions.
RSI is an opportunity to network, gain experience in conference organization, and meet other sustainability-minded individuals in the region. At the 2011 institute, more than 60 students, faculty and staff from Towson University, American University, University of Maryland, West Chester University, Shepherd University, University of Baltimore, Wesley College and the University of Pennsylvania attended the one-day event.
The 2011 program was cosponsored by the Delaware Environmental Institute (DENIN), the Delaware Experimental Program to Stimulate Competitive Research (EPSCoR), the National Science Foundation (NSF) and the UD Office of Residence Life.
Those who are interested in participating or have questions should email last year's chairs, Robin Dutta and Dan Kasper, at sustainability-institute@udel.edu by Friday, Feb. 10.
Article by Lindsay McNamara
Photo by Kathy F. Atkinson