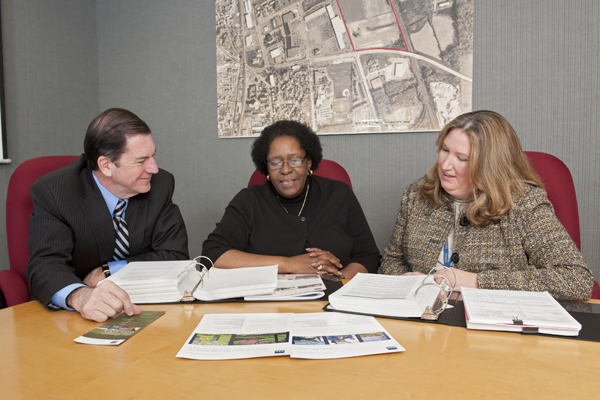 DelawareContracts.com
UD resource helps small companies navigate world of government contracting
8:51 a.m., Feb. 2, 2012--When NCALL, a nonpofit affordable housing corporation based in Dover, Del., needed help preparing a proposal to the United States Department of Agriculture (USDA), they turned to the Procurement Technical Assistance Center of Delaware (Delaware PTAC) for assistance. Experts at the center, which is located at the University of Delaware, reviewed the proposal for compliance with federal regulations and helped NCALL staff prepare a subcontracting plan.
Their support was instrumental in NCALL's being awarded a five-year, $4.2 million contract from the USDA's Rural Housing Service Technical and Management Assistance Program that will enable the company to work with low-income people on financing and constructing their own homes throughout a 21-state region.
From graduates, faculty
As it neared time for the processional to open the University of Delaware Commencement ceremonies, graduating students and faculty members shared their feelings about what the event means to them.
Doctoral hooding
It was a day of triumph, cheers and collective relief as more than 160 students from 21 nations participated in the University of Delaware's Doctoral Hooding Convocation held Friday morning on The Green.
This wasn't the first time that Delaware PTAC had helped NCALL.
"PTAC of Delaware was first recommended to us by Jayne Armstrong at the Delaware U.S. Small Business Administration in 2010," says Sherry DeZwarte, self-help housing director at NCALL. "Their knowledge, technical assistance, and support allowed us to successfully prepare and negotiate our first subcontracting plan, for a previously awarded contract with USDA's Rural Development.
"The relationship continued during our recent proposal submission to USDA," she continues. "We value our partnership with PTAC of Delaware and look forward to future opportunities to work with them.  Knowing there is a knowledgeable support system to help with submission of proposals for government contracts is very much appreciated."
NCALL is just one of many Delaware PTAC success stories. In 2011, PTAC clients reported 242 federal and state contracts totaling $44 million. The center's staff provided 1,037 counseling sessions to 416 distinct clients, and they sponsored 44 training events that drew more than 1,300 attendees.
Juanita Beauford, PTAC of Delaware director, previously spent 10 years as a contractor in the medical supplies industry, so she has intimate knowledge of both sides of the desk.
"We have to understand how the government procurement system works, and we also have to know what makes small businesses tick because part of our role is to act as a translator between the two," she says. 
"Some companies get contracts right away," she adds, "but others may submit multiple applications before they're successful.  If that happens, we can help them evaluate why they didn't succeed and help them submit a better bid the next time." 
PTAC of Delaware services include vendor registration assistance, electronic bid matching, and contract packaging services. Staff members also help clients with interpreting government regulations, finding potential team members and joint venture partners, identifying subcontracting opportunities, and preparing government forms. The services are supported by the Delaware Economic Development Office, the U.S. Department of Defense, and Pepco Holdings, Inc./Delmarva Power.
PTAC is one of several programs under the umbrella of the Small Business and Technology Development Center (SBTDC) at UD, which in turn is one of several resources available through the Office of Economic Innovation and Partnerships (OEIP).
"Our goal within this office is to create a culture where innovation and entrepreneurship thrive at UD and across the state and region," says OEIP head David Weir. "That includes providing a wide range of support to small businesses, and PTAC is an important piece in that broad picture, whether the entrepreneurs are UD faculty or members of the larger community."
About OEIP
Since its formation in 2008, under the direction of former DuPont vice president for research and development David Weir, OEIP has worked with the state, Delaware Technology Park, numerous researchers and companies in creating a culture where innovation and entrepreneurship can thrive in Delaware. The Small Business and Technology Development Center, a unit of OEIP, exists to strengthen Delaware's economic base by providing quality services such as management assistance, educational programs and resources to Delaware's business community and potential entrepreneurs.
About PTAC
Congress created the Procurement Technical Assistance Program (PTAP) in 1985 to help businesses seeking to compete successfully in federal, state and local government contracting. Funded through cooperative agreements between the Department of Defense and state and local entities, PTACs provide a range of expert services at little or no charge. Established in 1999, Delaware PTAC is one of 97 programs in the United States, operating in over 300 locations. 
About NCALL
NCALL (National Council on Agricultural Life and Labor Research Fund, Inc.) is a nonprofit, multi-faceted affordable housing corporation based in Dover, Del., that offers development technical assistance services to local nonprofit sponsors, along with educational and counseling services to assist households in reaching housing goals. 
The current USDA award supports NCALL in assisting and training organizations that operate self-help, sweat-equity, homeownership programs throughout a 21-state service area in the northeast and north central portions of the U.S.
Article by Diane Kukich
Photo by Evan Krape