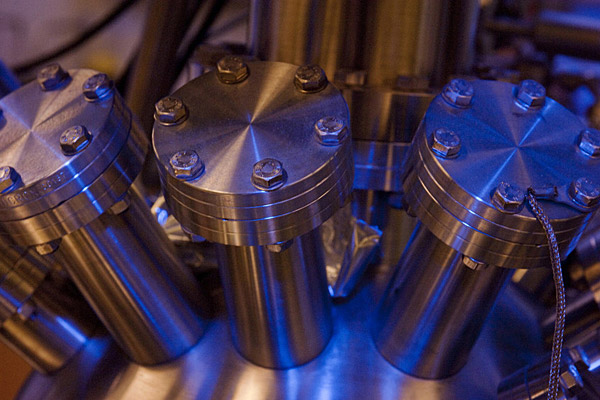 National leader
Delaware academic scientists and engineers rank first in publication of research
11:40 a.m., Feb. 20, 2012--Among university scientists and engineers, Delaware academic researchers are the most productive in the nation, far out-publishing their peers, according to a report prepared by the National Science Foundation and issued by the National Science Board.
According to Science and Engineering Indicators 2012, Delaware academics top the nation in the publication of research articles in scholarly journals — an important measure of productivity and contributions to scientific knowledge.
Chronic wounds
UD's Millicent Sullivan and Kristi Kiick have received a $1.4 million grant from the National Institutes of Health for research that could provide a new approach to the treatment of chronic wounds.
Prof. Heck's legacy
The American Chemical Society is highlighting the legacy of the late Nobel laureate Richard Heck, the Willis F. Harrington Professor Emeritus of Chemistry at the University of Delaware with a digital tribute on its publications website.
Based on 2008 data, Delaware academics published 812 articles per 1,000 doctorate holders in science and engineering fields compared to the national average of 580 articles. Massachusetts was the second-highest producer at 785 articles.
Delaware's academic scientists and engineers also ranked first in the number of articles produced for every $1 million in academic research and development (R&D) funding. Delaware researchers published 4.64 articles compared to the national average of 2.97 articles.
The University of Delaware has some of the most prolific authors in the nation. In the past year alone, Roberta Colman, Willis F. Harrington Professor Emerita of Chemistry and Biochemistry, was named 23rd among the 50 most prolific authors in the journal Biochemistry, which is published by the American Chemical Society.
Additionally, last year, Times Higher Education named Tsu-Wei Chou, Pierre S. du Pont Chair of Engineering, among the top 100 materials scientists of the past decade. Chou, who was ranked 34th, was chosen based on high citation impact -- the number of times his many research articles have been cited or referenced by other researchers in their work.
"These number-one rankings attest to the outstanding productivity, creativity and scholarly impact of our faculty and graduate students," said Mark Barteau, senior vice provost for research and strategic initiatives at UD. "But even more exciting is the trajectory we are on and the evidence for the catalytic effect of investments in our research capabilities."
Barteau noted that a decade ago, before Delaware became eligible for research infrastructure-building programs such as the National Science Foundation's Experimental Program to Stimulate Competitive Research (EPSCoR) and the National Institute of Health's Institutional Development Award (IDeA), the state's productivity ranking was seven. 
"The emphasis on research and graduate education embodied in our Path to Prominence, our significant growth in sponsored research activity over the past three years, and our investments in forward-looking research infrastructure like the Interdisciplinary Science and Engineering Lab, bode very well for UD's future as one of the nation's leading research universities," Barteau said.
Science and Engineering Indicators 2012, prepared by the National Science Foundation's National Center for Science and Engineering Statistics, presents extensive data that serve as indicators of the scope, quality and vitality of the science and engineering enterprise in the United States and globally. 
The report's data are based on doctorate holders in computer sciences, mathematics, biological, agricultural and environmental life sciences, physical sciences, social sciences, psychology, engineering and health fields at two-year colleges, four-year colleges and universities, medical schools and university-affiliated research centers. 
Article by Tracey Bryant
Photo by Evan Krape