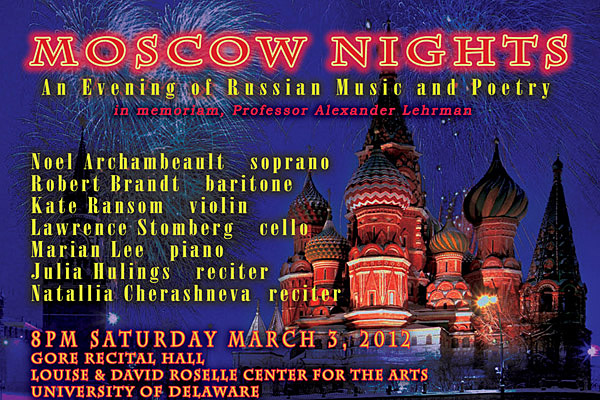 March 3: 'Moscow Nights'
Russian music, poetry to be featured in special event at Roselle Center
2:02 p.m., Feb. 24, 2012--"Moscow Nights," a collaborative event that will feature Russian musical compositions and poetry, will be held at 8 p.m., Saturday, March 3, in Gore Recital Hall of the Roselle Center for the Arts on the University of Delaware campus in Newark.
Tickets to "Moscow Nights" cost $12 for adults, $8 for senior adults and $3 for students, and will be available at the door.
Fulbright awards
Three University of Delaware students and an alumna have received word this spring that they will travel abroad as part of the newest class of Fulbright Student Program award winners.
Peace Corps plans
Two University of Delaware students, John McCarron and Bridgette Spritz, have been selected as Peace Corps volunteers and will serve in Ghana and Rwanda.
The event has been organized by Marian Lee, adjunct assistant professor, in cooperation with faculty from the Department of Music and Russian language faculty from the Department of Foreign Languages and Literatures.
The program will feature piano music and songs of well-known Russian composers Tchaikovsky and Rachmaninoff, along with Anton Arensky's Piano Trio in D minor, considered by many as one of the jewels of Russian chamber music. 
Performers will be UD professors Noel Archambeault, Robert Brandt, Marian Lee, Kate Ransom, Lawrence Stromberg, Julia Hulings and Natallia Cherashneva.
"What will make this a unique event is that the audience will be able to hear poems spoken in the original Russian language by UD Russian professors, and then immediately hear how the composer puts the exact same poem to music," said Lee.
In addition, UD students from both departments will collaborate in "a hauntingly beautiful Russian lullaby," she said.
The last song on the program will be an audience sing-along of a very well known Russian popular song called Moscow Nights, from which the program draws its title. 
Following the concert will be a reception featuring Russian desserts and snacks to complete the Russian cultural experience. 
Lee said that the late Dr. Alexander Lehrman was originally scheduled to be the poetry reciter for the evening and to lead the audience in the Moscow Nights song. "His musical background in cello, piano, and voice and specialty in Russian poetry made him the perfect collaborator to this special event," she said, adding, "Sadly, Dr. Lehrman passed away last fall and Moscow Nights is dedicated in his memory."
For a YouTube video featuring Lee as she discusses the event, click here.