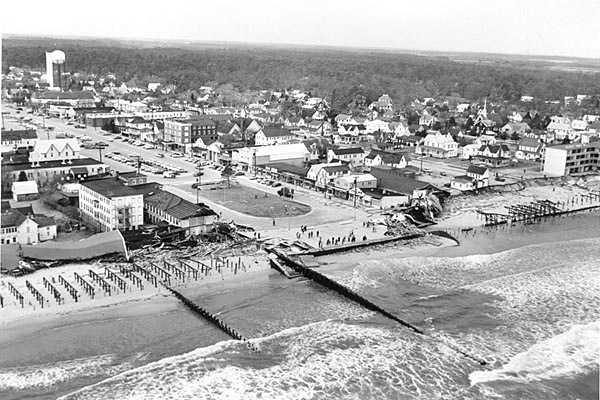 50 years later
Activities recall devastating '62 Storm that pummeled Delaware coast
1:22 p.m., Feb. 6, 2012--In March 1962, a powerful, slow-moving northeaster pummeled the mid-Atlantic coast, bringing huge waves, extreme winds and record-setting tides over the course of three days. Often called "Delaware's Coastal Storm of the Century," the catastrophe destroyed homes, flooded communities and killed seven people.
In commemoration of the storm's 50th anniversary, free public events highlighting coastal vulnerability and sustainability are scheduled for Wednesday, March 7, from 9 a.m. to 4 p.m., at the Rehoboth Beach Convention Center. 
From graduates, faculty
As it neared time for the processional to open the University of Delaware Commencement ceremonies, graduating students and faculty members shared their feelings about what the event means to them.
Doctoral hooding
It was a day of triumph, cheers and collective relief as more than 160 students from 21 nations participated in the University of Delaware's Doctoral Hooding Convocation held Friday morning on The Green.
The activities are sponsored by the Delaware Sea Grant College Program (DESG), the Delaware Department of Natural Resources and Environmental Control (DNREC) and the city of Rehoboth Beach.
"We want to both commemorate the past and prepare for the future," DESG coastal processes specialist Wendy Carey said. "The '62 Storm is the most damaging coastal storm on record in Delaware, but if a storm of that magnitude were to hit us tomorrow, how would we fare? Our hope is to provide an overview of how all levels of government and society can work together to reduce risks and create more resilient Delaware communities." 
Activities will provide unique perspective on the Delaware coast – looking 50 years back and 50 years forward – including:
Presentations by nationally known experts about meteorological predictions; flooding and inundation scenarios; coastal development and economies; beach management strategies; and flood-resistant development practices. 
Screening of the film The '62 Storm – Delaware's Shared Response that includes firsthand accounts from people who lived through the northeaster. 
Exhibits featuring 1960s photographs and memorabilia from coastal communities and historical societies. 
Hazard mitigation and preparedness information from the Delaware Emergency Management Agency and others. 
A teacher workshop with storm-related topics and resources. 
An additional film screening and teacher workshop will be held at 7 p.m. on Tuesday, March 6, at UD's Hugh R. Sharp Campus in Lewes.
Tony Pratt, administrator of DNREC's Shoreline and Waterway Management Section, encourages both community officials and coastal residents to attend. 
"Perhaps more than any other single event, the 1962 northeaster exemplifies Delaware's vulnerability to severe wave attack and flooding," Pratt said. "The property damage costs and human suffering resulting from that storm underscore the importance of statewide mitigation and preparedness initiatives for future coastal storms. With a history of strong interagency cooperation including support from the General Assembly, Delaware has a comprehensive beach and storm readiness plan in place. The workshop will highlight effective risk reduction programs aimed to improve coastal sustainability, as well as opportunities for improved efficiency and partnerships."
All events are free on both days, but seating is limited and reservations are required. More information and registration information is available at the Delaware Sea Grant '62 Storm website or by calling 302-645-4346.
Article by Teresa Messmore and Wendy Carey
Photo courtesy Delaware State Highway Department