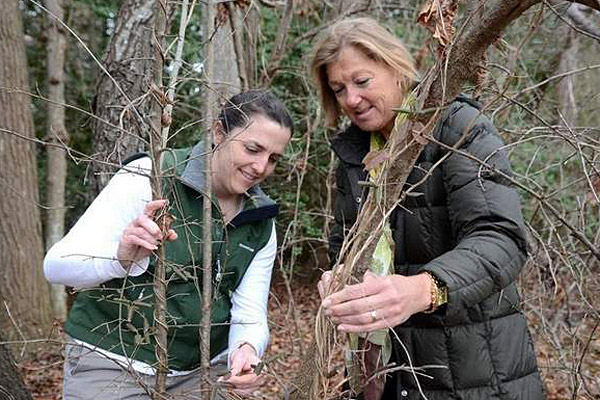 Alien invaders
UD professor works to fight state's 10 'most wanted' invasive species
8:28 a.m., Feb. 14, 2012--Emerald ash borer, nutria, snakehead and brown marmorated stink bug are all on the "most wanted" list, even though you won't find their mug shots at the post office.
These bad guys, plus three additional species, have been named the most wanted invasive species by the Delaware Invasive Species Council. The list contains invasives from both the plant and animal worlds and includes insects, fish, plants and one mammal, the nutria.
From graduates, faculty
As it neared time for the processional to open the University of Delaware Commencement ceremonies, graduating students and faculty members shared their feelings about what the event means to them.
Doctoral hooding
It was a day of triumph, cheers and collective relief as more than 160 students from 21 nations participated in the University of Delaware's Doctoral Hooding Convocation held Friday morning on The Green.
"National Invasive Species Awareness Week runs Feb. 26 to March 3 and our most wanted list is a way to draw attention to invasives and get Delawareans interested in doing their part to reduce the impact of these non-native species," says Sue Barton, an ornamental horticulture specialist with University of Delaware Cooperative Extension and vice chair of the council.
Almost every Delawarean has encountered the non-native brown marmorated stink bug, which was accidentally introduced into the U.S., probably as a stowaway in packing crates. First spotted in Allentown, Pa., in 1998, it has since appeared in farm fields, orchards, kitchen cabinets and bedroom drawers throughout Delaware and 33 other states. Homeowners may not like having stink bugs in their sock drawers but they don't cause any harm there. However, stink bugs can wreak havoc outside the home. They feed on a wide range of crops and have caused extensive damage to orchards in West Virginia, Maryland and other nearby states.
Not as many Delawareans are familiar with the emerald ash borer but this beetle is a menace it its own right. A native of Asia, the emerald ash borer has destroyed tens of millions of ash trees in Michigan, Illinois and 15 other states. Close to home, it's killed millions of trees in Pennsylvania and has been positively identified in Maryland.
The emerald ash borer hasn't been spotted in Delaware yet, which is one of the reasons it made this year's most wanted list. "It's a lot easier to control an invasive species when it first appears," says Kendall Sommers, chair of the Invasive Species Council and a planner with the state Department of Parks and Recreation.
"We're trying to be diligent about catching and controlling invasives as soon as they're spotted," says Sommers. "It doesn't take long for an invasive to out-compete other species."
The Invasive Species Council is introducing a program that should help control invasives before they take over everything in sight. Last Wednesday the council met to plan the Early Detection Rapid Response Network, to be launched later this spring. 
The network is an online, real-time system designed to detect invasive species new to Delaware as soon as they appear here. Initially, the network will be open to industry professionals but later will be available to the public. "Eventually, we'd love to see everyone participate in this network," says Sommers. "A hiker will be able to pull out a smart phone and snap a photo of a suspicious species for us to review. If it turns out to be an invasive species, we'll be able to quickly spread the word."
Once established, invasives are like the house guest who never leaves – it takes more than gentle coaxing to get either off of your property.
Take Barton's experience with Japanese stilt grass, one of the most common invasive plants in Delaware. This annual weed is notorious for forming dense mats that spread in open woods, floodplain forests, wetlands and other areas. Eventually these mats grow into a monoculture, crowding out other plants. In Delaware and other places where white-tailed deer are over-abundant the problem is compounded because deer feed on native plants and avoid stilt grass.
"Japanese stilt grass is pervasive in the woods and meadow areas of my property," says Barton. "I have tried to control stilt grass by mowing before it seeds and using herbicides, then replanting with desirable species. My only real success story is an area where I planted ferns and pulled stilt grass for about three years."
If you'd like to help battle invasives on public land, sign up for one of the volunteer events taking place during National Invasive Species Awareness Week. See "how to help" below for details.
How to help
• Blackbird Reserve Invasive Plant Weed-Out. Feb. 26, 1-4 p.m. Rain/snow date: March 11. To register, or for more info, contact Lynn Staub, 302-735-3600 or lynne.staub@state.de.us.
• Cape Henlopen State Park Invasive Plant Workday. Feb. 26, 1-4 p.m. To register or for more info, contact Ashley Kroon, 302-242-6004 or Ashley.Kroon@state.de.us.
• Trap Pond State Park Invasive Plant Workday. March 3, 9 a.m.-noon. To register or for more info, contact Ashley Kroon at 302-242-6004 or Ashley.Kroon@state.de.us.
• White Clay Creek State Park Invasive Plant Workday. March 3, 9 a.m.-noon. For more info, contact Linda Rossell at Linda.Rossell@state.de.us.
• Lums Pond State Park Invasive Plant Workday. March 3, 9 a.m.-noon. To register or for more info, contact Ashley Kroon at 302-242-6004 or Ashley.Kroon@state.de.us.
Article by Margo McDonough
Photo by Danielle Quigley