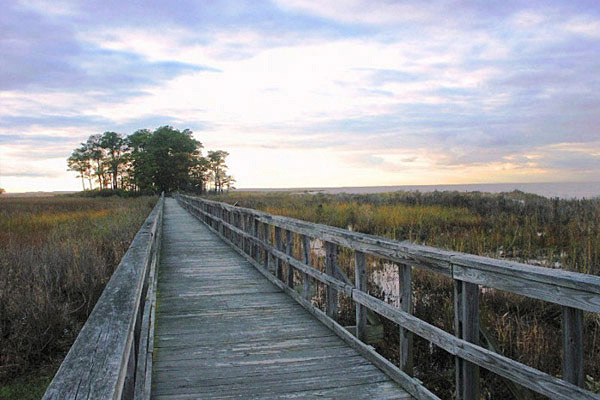 Celebrating the humanities
Research center announces numerous projects, coming events
12:50 p.m., Feb. 13, 2012--The Interdisciplinary Humanities Research Center (IHRC) at UD has announced several new or continuing projects encompassing such areas as environmental humanities, the history of fashion, gardening and the human relationship with nature, and a musical celebration of the humanities.
Part of the College of Arts and Sciences, the IHRC was created in fall 2009 to strengthen faculty research and creative activity, support multidisciplinary research and teaching, and foster public engagement in the humanities. Its director is Ann Ardis, deputy dean of the college, and the associate director is Janis Tomlinson, director of University Museums.
From graduates, faculty
As it neared time for the processional to open the University of Delaware Commencement ceremonies, graduating students and faculty members shared their feelings about what the event means to them.
Doctoral hooding
It was a day of triumph, cheers and collective relief as more than 160 students from 21 nations participated in the University of Delaware's Doctoral Hooding Convocation held Friday morning on The Green.
Recently announced projects supported by the center include the following. 
The Environmental Humanities Working Group is bringing together the insights of history, literature, journalism, philosophy, aesthetics and other disciplines to analyze and understand the environmental predicaments of the 21st century. Plans include designing a minor to help students use the tools of the humanities to think in new ways about the environment, creating opportunities for scholars in various fields to collaborate on environmental research and planning public programs to explore issues. The Environmental Humanities Working Group is co-sponsoring Terry Tempest Williams' visit to campus later this month and will be hosting Susan Freinkel, author of Plastic: A Toxic Love Story, in April.
Participants in the working group are McKay Jenkins, Tilghman Professor of English, and Adam Rome, associate professor of history, who are co-directors of the College of Arts and Sciences' environmental humanities initiative; Susan Barton, extension specialist and associate professor of plant and soil sciences; Jacob L. Bowman, associate professor of wildlife ecology; Huantian Cao, associate professor of fashion and apparel studies; James Kendra, associate professor of public policy and administration and director of UD's Disaster Research Center; Sandy Isenstadt, associate professor of art history; Del Levia, associate professor of geography; Victor Perez, assistant professor of sociology and criminal justice; and Thomas M. Powers, assistant professor of philosophy and of public policy and director of UD's Center for Science, Ethics and Public Policy.
"Encounters: iMusic5—Qing and West" is part of the Master Players Concert Series and will be complemented this year by a symposium series on April 13, 19 and 20, featuring talks by such UD faculty members as David Pong, Jeanne Pfaelzer and Jonathan Russ. The series also will offer tai chi and calligraphy demonstrations by visiting artists and a presentation by Marcia Reed, chief curator and head of collection development and exhibitions at the Getty Research Institute. The symposium series will culminate with the theatrical multimedia productions celebrating the diversity of the humanities through the intersection of theatre, history, literature, preservation, music and technology on April 20 and 21 in Mitchell Hall.
The second distinguished speaker in the "Transnational Encounters: World-Renowned Writers at the University of Delaware" series will be the French writer J.M.G. Le Clézio, recipient of the 2008 Nobel Prize in Literature. Le Clézio will give a public talk in English and read from his fiction in both English and French on May 10 and 11.
Earth Perfect? Nature, Utopia and the Garden is a two-phase project from 2011-13. In the first phase, an international group of scholars and experts in the fields of classics, cultural studies, literature, architecture, art, art history, horticulture, urban planning, landscape design and philosophy are addressing the importance of the garden as an emblem of the ideal human relationship to nature and will release an illustrated collection of essays in May 2012. Then, in June 2013, these issues will be explored in a four-day symposium to be held at UD, Longwood Gardens, Winterthur, Chanticleer and other area gardens.
Also in spring 2013, an exhibition, "Common Threads: History of Fashion Through a Woman's Eyes," will be held in the West Gallery of Old College, featuring artifacts in the Department of Fashion and Apparel Studies' Historic Costumes and Textiles Collection. The exhibition will chronicle 20th century women's fashion and explore the meaning of fashion and art in social and historical contexts. The IHRC funding for this project, which is co-sponsored by the University Museums, will support the research conducted by faculty, the preparation by graduate and undergraduate students of artifacts selected for the exhibition, an accompanying print catalog, podcasts developed to provide a guided tour of the exhibition, and a research symposium that will be open to the general public.
More details about all the projects, faculty leaders and other participants are available on the website.
Anyone interested in meeting faculty whose research and teaching activities have been supported through the IHRC is welcome to attend the "Projects in Progress" presentations on Tuesday, March 13, from 5-6:30 p.m., in the Gore Recital Hall of the Roselle Center for the Arts. RSVP to ihrc@art-sci.udel.edu.