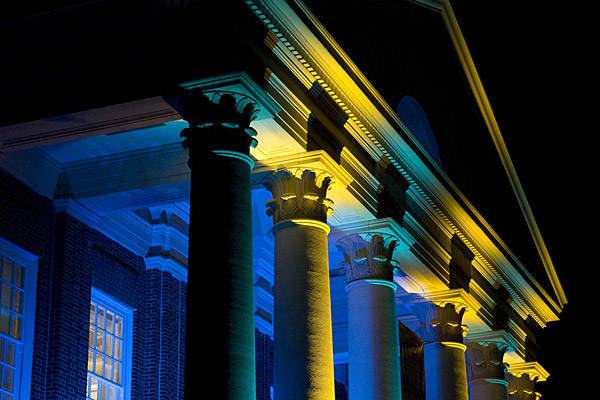 UD, the place to be
University of Delaware named one of the hottest colleges in the nation
4:25 p.m., Feb. 28, 2012--The University of Delaware has frequently appeared on "best value" lists, but now the home of the Blue Hens has joined the company of Brown, Duke, Yale, Vanderbilt, and other elite schools in being named one of the hottest colleges in the nation.
The list was publicized by The Huffington Post on Monday, Feb. 27, with the headline "The Hottest Colleges In The Nation: InsideCollege List." The schools on the list were pronounced "the place to be" and "the experts' choice for schools most popular with students."
From graduates, faculty
As it neared time for the processional to open the University of Delaware Commencement ceremonies, graduating students and faculty members shared their feelings about what the event means to them.
Doctoral hooding
It was a day of triumph, cheers and collective relief as more than 160 students from 21 nations participated in the University of Delaware's Doctoral Hooding Convocation held Friday morning on The Green.
InsideCollege, which pegs itself as "the insider's guide to everything college," has more than 700 lists in three categories:  Facts and Stats Lists, Expert's Choice Lists, and User-generated Lists. 
The lists cover a vast array of criteria—from money matters, geography, and campus beauty to sports, campus radio stations, and academics. 
UD appears on 53 InsideCollege lists, including "Interesting Mascots" and "Making a Large School Seem Smaller: Honors Colleges." 
Delaware is also recognized for its strengths in figure skating, hospitality management, criminal justice, music, graphic design, fashion merchandising and journalism. 
In addition, UD is on the hidden gems list, where it is described as "truly a gem but not hidden; superior academics and competitive athletics are just two facets of this gem."
Just below the list of hottest colleges on the InsideCollege website is a second list of schools that were deemed merely "hot," including the University of Maryland and Penn State.
About the Hottest Colleges List
The complete list includes Boston College, Boston University, Brown College, College of Charleston, Elon University, Emory University, George Washington University, Georgetown University, Muhlenberg College, New York University, Northwestern University, University of Delaware, University of Denver, University of Miami, University of Michigan, University of Southern California, Vanderbilt University, Villanova University, Washington University in St. Louis, and Yale University.
Article by Diane Kukich