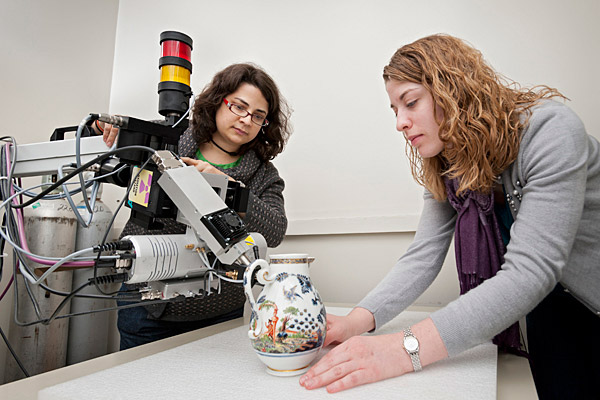 Going global
Conservator works in disaster response, archaeological sites
3:30 p.m., Feb. 2, 2012--From archaeological digs in Guatemala and Turkey, to earthquake-devastated museums in Haiti, to universities in Canada and California, Caitlin O'Grady's career covers a lot of ground.
Since joining the University of Delaware in fall 2011 as the Andrew W. Mellon Fellow in Conservation Education, she has been teaching in the art conservation undergraduate, graduate and doctoral programs while also traveling. She began her fellowship with a project in Haiti in late August and early September, in which she worked with the Cultural Recovery Center there on cleaning, preserving and re-housing various works of art that had been exposed to harsh conditions after the 2010 earthquake.
Fulbright awards
Three University of Delaware students and an alumna have received word this spring that they will travel abroad as part of the newest class of Fulbright Student Program award winners.
Peace Corps plans
Two University of Delaware students, John McCarron and Bridgette Spritz, have been selected as Peace Corps volunteers and will serve in Ghana and Rwanda.
O'Grady has extensive experience and training in disaster response, so the Haiti project—operated jointly by the Foundation of the American Institute for Conservation of Historic and Artistic Works and by the Smithsonian Institution—was a good fit for her skills. 
"I also have a lot of experience living in other cultures," said O'Grady, who specializes in the conservation of archaeological materials, "so it made sense for me to go to Haiti."
By the time she arrived there, many collections of art and artifacts had been removed from damaged museums and other buildings and were being stored in metal shipping containers, where extreme heat and humidity caused additional harm. She worked with local conservators and assistants on a number of traditional Haitian sculptures as well as on a private collection of voodoo objects. 
"It's very expensive to run a conservation program on that scale and with so many challenges," O'Grady said. "But I think a lot of good came out of the program, especially the education and training that was provided locally, and I was pleased to be able to contribute."
Although she doesn't know if or when she will return to Haiti, O'Grady continues to speak to students and other professionals about her experiences there and about the broader topic of disaster response. She spent two weeks in the fall as a lecturer at Queen's University in Ontario, which offers the only Canadian graduate program in conservation, and another two weeks in January at the University of California Los Angeles, whose conservation program specializes in archaeological and ethnographic work.
O'Grady's own work in that area includes a project that began in 2003, in which she is collaborating with Heather Hurst of Skidmore College to preserve and analyze fragments of murals that were discovered at an archaeological site at San Bartolo in Guatemala. The site is a Maya temple dating to about 200-300 B.C., where conservators are assembling 3 tons of fragments that once made up 29 square meters of wall paintings. 
"It's like a huge jigsaw puzzle—in a jungle," O'Grady said, adding that if the project receives enough funding, she hopes to give some students the opportunity to participate in the future. In an unrelated project, two first-year students will accompany her this summer to the Kaymakçı Archaeological Project in Turkey, where she is managing director of conservation in a project run by Boston University. 
This spring semester, she is teaching a freshman course, "Science and Art," as well as teaching other undergraduate and graduate classes and assisting students with their scientific analysis projects in the conservation labs at Winterthur Museum.
O'Grady earned a master's degree in art history and an advanced certificate in objects conservation from the Conservation Center, Institute of Fine Arts, at New York University. She received master's and doctoral degrees in heritage conservation science from the Department of Materials Science and Engineering at the University of Arizona.
Article by Ann Manser
Photo by Evan Krape