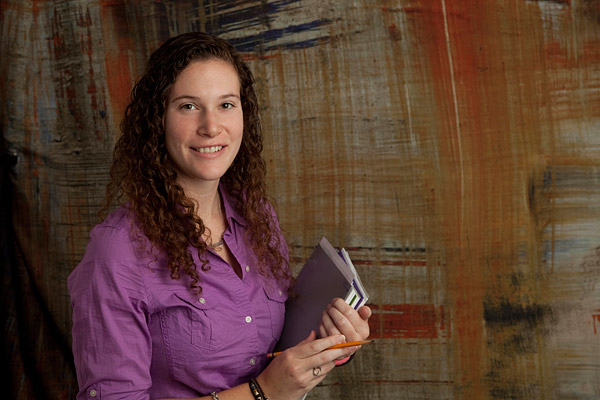 National spotlight
NIST research opportunity leads to national stage for UD junior
1:42 p.m., Feb. 17, 2012--In a few months, University of Delaware junior Anna D'Alessio has accomplished what others in her field dream of achieving: she has conducted research, become a published author and been invited to her first national conference.
Last summer, D'Alessio, a mechanical engineering student, began working at the National Institute of Standards and Technology (NIST) as part of a Summer Undergraduate Research Fellowship. 
Chronic wounds
UD's Millicent Sullivan and Kristi Kiick have received a $1.4 million grant from the National Institutes of Health for research that could provide a new approach to the treatment of chronic wounds.
Prof. Heck's legacy
The American Chemical Society is highlighting the legacy of the late Nobel laureate Richard Heck, the Willis F. Harrington Professor Emeritus of Chemistry at the University of Delaware with a digital tribute on its publications website.
NIST is a measurement standards agency under the U.S. Department of Commerce. D'Alessio's work included reviewing and updating the Sustainability Standards Portal (SSP), a system that comprehensively lists, details and analyzes standards and regulations related to NIST's environmental impact and optimization of resource efficiency. 
Essentially, the SSP aims to simplify, for NIST stakeholders, the complex legislation of the numerous sustainability standards and regulations currently in practice. 
"Working with NIST was a great experience," D'Alessio says. "I worked on the Sustainability Standards Portal which helps stakeholders determine whether a specific standard or regulation applies to them."
D'Alessio's role consisted of selecting 10 standards that represent the different aspects of NIST's environmental impact such as emissions reports and building operations. Employing the Zachman framework, a two-dimensional model used to organize and analyze data, she conducted extensive technical analyses on each standard to determine their scope and simplify them. 
She then created information models for three of the standards in order to find legislative gaps and overlaps between them. Her work allows stakeholders to understand the amount of effort needed to comply with these regulations and could potentially result in more accurate sustainability practices.
Impressed with her work, D'Alessio's advisers at NIST asked her to continue the project while at UD last fall.
"This is not a typical undergraduate student performing research under the daily supervision of a professor; this is Anna working as an independent scholar with professional scientists," says Joshua Hertz, assistant professor in the Department of Mechanical Engineering and D'Alessio's faculty adviser on the project. "Her ability to perform independently at such a high level so early in her career is impressive."
The experience resulted in D'Alessio's first lead-authored conference paper, entitled "Modeling Gaps and Overlaps of Sustainability Standards," and an invitation to the 19th annual CIRP Conference on Life Cycle Engineering. She will present her research at the conference, which takes place May 23-25 at the University of California Berkeley.
"Anna's actions exemplify the kind of 'idea leadership' that the University and the College of Engineering encourages in all of our students. Her actions today provide a preview of the tremendous potential she has as a future engineer," remarked Babatunde A. Ogunnaike, interim dean of engineering.
At UD, D'Alessio is active in several student engineering organizations. She serves as conference coordinator for the Society of Women Engineers student chapter, secretary for the Delaware section of the American Society of Mechanical Engineers and treasurer of Alpha Omega Epsilon, the engineering sorority. D'Alessio is also a member of the UD club swim team.
Article by Zac Anderson
Photo by Ambre Alexander