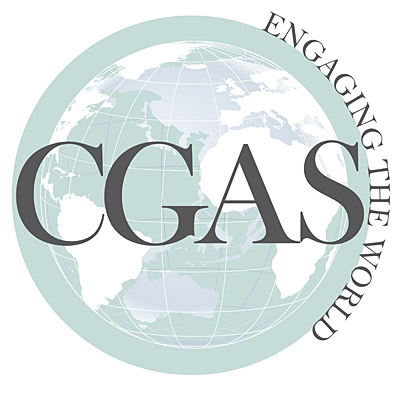 Imagining the future
New global studies center launches spring speaker series
8:48 a.m., Feb. 10, 2012--The University of Delaware's Center for Global and Area Studies (CGAS) has kicked off its spring speaker series, "The Future Imagined: A Global Perspective."
The series is part of a one-credit course, ARSC 367, "Research in Area Studies," which will bring together a diverse set of speakers from the University to talk about a variety of disciplines and geographical regions, including the future of technology, the environment, China, race and economic development. The first talk, held Feb. 8, featured Prof. S. Ismat Shah, who has joint appointments in the departments of Materials Science and Engineering and of Physics and Astronomy, speaking about nanotechnology and future energy options.
From graduates, faculty
As it neared time for the processional to open the University of Delaware Commencement ceremonies, graduating students and faculty members shared their feelings about what the event means to them.
Doctoral hooding
It was a day of triumph, cheers and collective relief as more than 160 students from 21 nations participated in the University of Delaware's Doctoral Hooding Convocation held Friday morning on The Green.
"The Future Imagined" is the first project of the new center, which was established by the College of Arts and Sciences earlier this year. Directed by Julio Carrión, associate professor of political science and international relations, the center brings together faculty and students working in the six Area Studies programs within the college, including scholars in African, Asian, European, Islamic, Jewish and Latin American and Iberian studies.
"The speaker series is just one of the many initiatives CGAS will be providing to enhance the global intellectual community here at UD," Carrión said. "The goal of CGAS is to promote the many ways in which UD faculty and students are engaging in research and learning beyond the UD campus, and then bringing their insights and experiences to the classroom. This recurrent speaker series offers a dynamic opportunity for students to learn more about what innovative research faculty are conducting abroad."
The lectures will take place Wednesdays at 5 p.m. in 318 Gore Hall and are free and open to the public. The topics and speakers are:
Feb. 15—"On the Future of International Immigration," Mark Miller, Emma Smith Morris Professor of Political Science and International Relations.
Feb. 22—Film screening, Last Train Home.
Feb. 29—"Asia's China," Alice Ba, associate professor of political science and international relations.
March 7— "Ancient Chinese Philosophy and the Future," Alan Fox, professor of Asian and comparative philosophy and religion.
March 14—"Identity as Commodity: Ancestry DNA and the Fabrication of Racial Authenticity," Arica Coleman, assistant professor of Black American Studies.
March 21—"Brazil: Still the Land of the Future?" Eve Buckley, assistant professor of history.
April 4—"The Future Cities of Bodys Kingelez: A Congolese Visionary," Ikem Stanley Okoye, associate professor of art history.
April 11—"Finding the Future of Fashion," M. Jo Kallal, professor of fashion and apparel studies.
April 18—"For Lo Futurity is in this Moment," Abby Donovan, assistant professor of art.
April 25—"Have We Reached Peak Longevity? Evidence from Japan," Melissa Melby, assistant professor of anthropology.
May 2—"'Madame Minister': Women's New Political Participation in Sub-Saharan Africa," Gretchen Bauer, professor and chair of the Department of Political Science and International Relations.
May 9—"Utopia/Dystopia," speaker to be announced.
Article by Lauren Pitruzzello