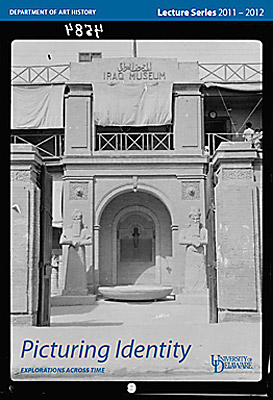 'Picturing Identity'
Art history lecture series continues with talk on Iraq Museum
12:48 p.m., Feb. 13, 2012--Corine Wegener, associate curator of decorative arts, textiles and sculpture at the Minneapolis Institute of Arts, will deliver a lecture about the Iraq Museum at 5:30 p.m. on Thursday, Feb. 16, in Room 127 Memorial Hall on the University of Delaware campus.
The lecture, "Beyond the Iraq Museum: Protecting our Cultural Heritage in Times of Crisis," is free and open to the public. Wegener will be talking about her experiences in helping to preserve objects in the Iraq Museum during the Iraq War, as well as her efforts to protect cultural heritage in crisis around the world.
From graduates, faculty
As it neared time for the processional to open the University of Delaware Commencement ceremonies, graduating students and faculty members shared their feelings about what the event means to them.
Doctoral hooding
It was a day of triumph, cheers and collective relief as more than 160 students from 21 nations participated in the University of Delaware's Doctoral Hooding Convocation held Friday morning on The Green.
Wegener's talk continues the 2011-12 Department of Art History lecture series, titled "Picturing Identity: Explorations Across Time," that began in the fall. The series, organized each year by a committee made up of several graduate students and a faculty member, brings prominent scholars, curators and visual artists to campus to lecture on a variety of topics in art history.
Following are the other lectures in the series this semester.
March 9—Nina Rowe, assistant professor of art history at Fordham University, "The Church, the Jews and Visual Pleasure in the 13th Century," 5:30 p.m., Room 127 Memorial Hall.
April 5—Toby Jurovics, Richard and Mary Holland Curator of American Western Art at the Joslyn Art Museum, "Framing the West: The Survey Photographs of Timothy H. O'Sullivan," 5:30 p.m., Room 127 Memorial Hall. This talk is the William I. Homer Lecture, named in honor of the photography historian and author who is H. Rodney Sharp Professor Emeritus of Art History at UD. 
Support for the lecture series is provided by the departments of Art Conservation, Art History, Foreign Languages and Literatures, and Political Science and International Relations; the Center for Material Culture Studies; the Museum Studies Program; the Committee on Activities and Public Events the Mark Samuels Lasner Collection on loan to the University Library and the Office of Equity and Inclusion.
Article by Andrea Muddiman