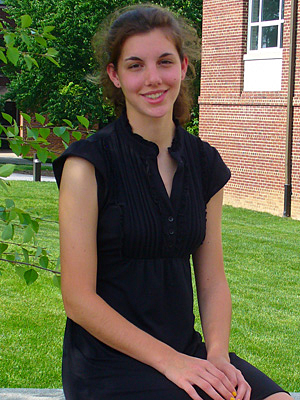 Aquarium internship
UD student spends summer as intern at Baltimore's National Aquarium
11:10 a.m., Dec. 15, 2011--When Sarah Thorne was young, she would take trips to the National Aquarium in Baltimore and her favorite part would be getting to see the big three-finned turtle, Calypso, languidly swimming in the "Wings in the Water" exhibit. Little did she know that in just a few years, she'd be on the other side of the exhibit, swimming right alongside Calypso as part of a summer internship at the aquarium.
"I've been going to the aquarium since I was a baby and I loved this turtle, so when I got to swim with her, that was pretty neat," said Thorne.
'Resilience Engineering'
The University of Delaware's Nii Attoh-Okine recently published a new book with Cambridge University Press, "Resilience Engineering: Models and Analysis."
Reviresco June run
UD ROTC cadets will run from New York City to Miami this month to raise awareness about veterans' affairs.
As an aviculture intern working in the "Animal Planet Australia: Wild Extremes" exhibit, Thorne, a junior Honors Program student in the College of Agriculture and Natural Resources, was able to interact with a lot of the birds at the aquarium and she said that her favorite part involved giving the birds baths.
"At the very top of the exhibit you could put a mister on a hose and then spray it at this one tree, and the birds would all come over and start stretching out their wings to cool themselves off. That was kind of cool to watch," Thorne said. "It was the easiest part -- you just stood there and got to watch the birds." 
Her work was not restricted solely to birds, however. Thorne explained that she was able to interact with a host of different animals, including getting the opportunity to conquer her long-standing fear of snakes. "I'm afraid of snakes so they thought they'd try to let me see how I could deal with it, but I just fed them." 
Thorne said that she didn't get around to holding the snakes and joked that she was "OK with that."
Although sometimes she would get into a normal day-to-day routine, such as cleaning or feeding the animals, Thorne said she learned to always expect the unexpected because the animals could be unpredictable.
"Sometimes you could have a sick animal and you had to go do the veterinary exams," she said. "You thought you were going to be preparing the diets or cleaning, then all of a sudden you were taking care of that animal instead." 
She also participated in enrichment programs for the animals, sometimes giving an animal a different toy to play with or switching its food. 
Other tasks included putting up towels for flying foxes to hide behind, and spraying those towels with different animal scents. Thorne said it was while working with the flying foxes that a particularly memorable event occurred. 
Thorne explained that the foxes don't so much glide like a plane as they do crash into objects to make themselves stop: "They are crash landing flyers, they have to hit something to stop." 
So when one flying fox got stranded on a tree in the exhibit, Thorne said it "couldn't figure out where to go next, ended up trying to fly and fell on the floor."
She had to warn people nearby to stand back and then summoned an aquarium staff member to pick the animal up because she wasn't allowed to do that.
Thorne said that except for being frightened, the flying fox escaped the incident without a scratch. "Luckily, he tried to land on a tree and he sort of slid down and then he fell on the floor." 
Not only did Thorne work as an intern at the National Aquarium, however. She also kept busy during the first part of the summer as a veterinary intern at a U.S. Department of Agriculture center in Beltsville, Md., while also holding down a part-time job at Clark's Elioak Farm in Ellicott City, Md.
As a double major in agriculture and natural resources and animal biosciences, Thorne gained valuable hands-on experience at all of her jobs and was thrilled to get the chance to intern at the National Aquarium.
For those who would like an internship at the National Aquarium, Thorne encourages them to visit the internships website.
She also encouraged anyone who might apply not to be discouraged if things don't work out right away. "I did apply another year and I had to apply again," Thorne said. "So it might take two times, but it's definitely worth it."
Article by Adam Thomas