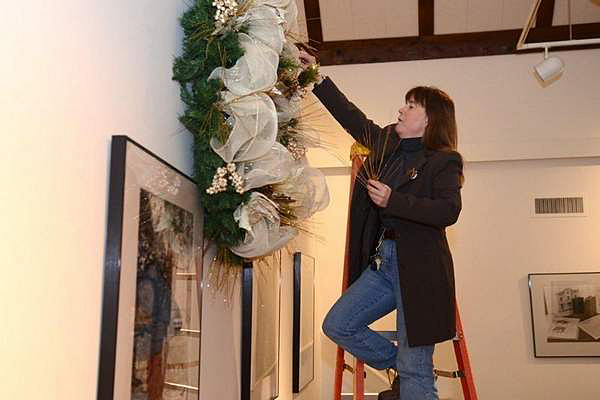 Winter wonderlands
UD, Hagley horticulturalists offer seasonal decorating tips
10:43 a.m., Dec. 1, 2011--An October hike always puts Renee Huber in a holiday state of mind. It's not the reds and golds of the autumn leaves that do it; it's because, like, Santa, Huber knows she has a big holiday job on the horizon. 
She is responsible for planning and installing the holiday decorations at Hagley Museum, which includes not only Eleutherian Mills, the du Pont family home; but also the Belin House, home to an organic café; the Soda House, where special events are held; and Gibbons House, where visitors can make paper ornaments or pop corn on a wood-burning stove.
From graduates, faculty
As it neared time for the processional to open the University of Delaware Commencement ceremonies, graduating students and faculty members shared their feelings about what the event means to them.
Doctoral hooding
It was a day of triumph, cheers and collective relief as more than 160 students from 21 nations participated in the University of Delaware's Doctoral Hooding Convocation held Friday morning on The Green.
"I start thinking about each year's theme and what materials I'm going to use in October," says Huber, who has been a Hagley horticulturalist for 17 years.  "I love walks and hikes and get inspired by what I see in the landscape. Before I go to bed, I take notes and make sketches so I don't forget my ideas."
By mid-October, Huber has ordered all of her supplies. In early November she gets a jump start on any tasks that can be done in advance. Mid to late November is crunch time, when she and a team of volunteers make the decorations and install them. Recently, the first visitors streamed in to enjoy "Christmas at Hagley."  
As much as possible, Huber uses natural plant materials collected from Hagley's 235 acres. Evergreens are a mainstay but she's always on the look out for other materials. "I love seed heads and ornamental grasses," she says. "Pink mulhy is a native grass that's most dramatic in fall, with pink, wispy flower heads. But after the frost, when the flower heads have turned brown, I like to tuck strands of this grass into wreaths, garlands and other decorations."
Like Huber, Sue Barton is a big fan of natural holiday decorations. But for Barton there's nothing stressful about the decorating process. An ornamental horticulture specialist for UD Cooperative Extension, Barton decorates her own home, not a museum that attracts thousands of visitors during the holiday season.
The Sunday afternoon she makes decorations is one of the high points of the season for Barton. She collects materials from her 7-acre property and often snips evergreen magnolias branches from a friend's yard. And this year her decorations will include lots of Eastern red cedar and blue-hued berries, which she collected recently on a long weekend in the Outer Banks.
"It's a lot more fun and a lot more relaxing than shopping for tinsel and garland," says Barton. "Simple homemade decorations are nicer than anything you can buy. And they bring a touch of the outdoors inside during a time of year when most of us don't get outside as much."
Huber maintains a cutting garden specifically for decorating purposes, planted with a variety of evergreens, winterberry and other perennial favorites. But most of us don't have that luxury. So it's important to prune carefully so that your landscape still looks good when you're done, cautions Barton.
Cut back to the trunk or another branch, she says. Stay away from hemlock and spruce because their needles will start dropping within days in a heated home. Barton soaks her greens overnight to re-hydrate them but Huber skips that step. Because both horticulturalists put up their decorations early, they check throughout the season to see if anything needs to be replaced.
"If evergreens become dried out they're a fire hazard," notes Barton.
If you don't consider yourself a natural Martha Stewart or P. Allen Smith, no worries. Barton says to go with the flow and let nature inspire you. "I never know what I'm going to cut until I get out there and see what looks good," she says. "Even during the crafting process, I don't work from carefully laid-out plans."
But if you work better with a little instruction, here are some tips, courtesy of the UD and Hagley horticulturalists: 
Be bold with color. Think beyond the classic red, green and silver. This season Huber used lots of yellow. For example, she paired yellow yarrow and bright red winterberry in several decorations to good effect. Both plants are native to Delaware and easy to grow.
Think beyond tried-and-true evergreens. Barton often decorates with oak leaf hydrangea, which still sports fall foliage in gorgeous shades of maroon. As long as you place the branches in water, hydrangea will stay fresh in your home into December.
Start collecting materials now even if you don't plan to make your decorations until later in the season. When you're out in the yard or on a walk, look for interesting berries, pine cones and nuts. Maybe you'll get lucky and find a long-abandoned bird's nest to tuck into an evergreen wreath.
A basket of pine cones, in all shapes and sizes, makes an attractive, rustic centerpiece. Add a bit of greenery and fresh citrus to the basket for texture, color and a great aroma. For something a bit splashier, spray paint the cones gold.
Article by Margo McDonough
Photo by Danielle Quigley