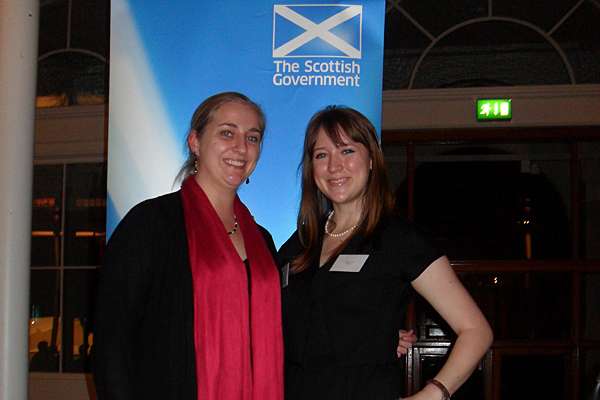 Coincidental meeting
UD Fulbright Scholar discovers how one bus ride can shrink the world
12:06 p.m., Dec. 6, 2011--Kimberly Lola Stevenson, a 2011 University of Delaware graduate and Fulbright Scholar now pursuing a master of research in medicine degree at the University of St Andrews in Scotland, recently enjoyed a chance encounter with a fellow Blue Hen on a bus ride to Edinburgh.
Riding on the same bus was Amanda Brizendine, a 2010 UD graduate with degrees in English and political science who also is studying in Scotland.
Fulbright awards
Three University of Delaware students and an alumna have received word this spring that they will travel abroad as part of the newest class of Fulbright Student Program award winners.
Peace Corps plans
Two University of Delaware students, John McCarron and Bridgette Spritz, have been selected as Peace Corps volunteers and will serve in Ghana and Rwanda.
Stevenson recently reported the encounter, writing:
I am constantly amazed at how little things such as hearing an old song, smelling a familiar smell or seeing someone from your past can make time and distance shrink infinitely. I had this experience last week on a bus ride at the University of St Andrews, halfway across the world from the University of Delaware, where I just graduated.
Since I am a Fulbright Scholar studying at the University of St Andrews in Scotland, I was invited to the Saltire Reception in Edinburgh, just a mere hour or so south of St Andrews.  The reception, hosted by Mr. Michael Russell, MSP, was held to honor international scholarship students studying in Scotland, and a couple of other Fulbright friends and myself went to represent the Fulbright Commission.  The University of St Andrews was kind enough to shuttle all of the scholarship recipients in St Andrews down to Edinburgh together, and this is where my story begins.
As I sat in the bus waiting to depart, I found myself talking with a fellow American about how the temperature dropped in St Andrews and the expected snow; you know, the usual "how is the weather?" chat.  As we were talking, she mentioned that her parents had snow early this season and I instantly wondered if she was from the East Coast.  Little did I know that not only is her family from Delaware but also that we are both recent graduates from the University of Delaware.  You can imagine my joy and surprise -- finally someone who can understand my love for California Tortilla and knows what "the Little Bob" means!
Amanda Brizendine and I chatted the entire bus ride to Edinburgh, enjoying the splendor of meeting a fellow Blue Hen in the tiny town of St Andrews.  Amanda, who graduated in 2010 with a degree with distinction in English and political science, is here working toward an MLitt in Mediaeval Literature, a far cry from the Master of Research in Medicine that I am working toward.  I had much to learn from her!
I also came to find out that Amanda roomed with one of my best friends from Delaware during a study abroad trip her freshman year -- what a coincidence!  As I sat there in a shuttle driving around a university that is old enough to have given an honorary law degree to Benjamin Franklin (St Andrews is celebrating its 600th anniversary), I could not help but think what a small world this really is.  Who would have thought that in the mediaeval streets of St Andrews there was a fellow Blue Hen in my midst!  It was a comforting and humbling thought to realize that no matter where I am, there is likely to be someone from the same walks of life as my own and that no matter what the distance, I can always find a little piece of home.  Who knows where my next Blue Hen encounter will be?
About the Fulbright
The Fulbright, established in 1946 and now operating in 155 countries worldwide, is considered the flagship international educational exchange program sponsored by the U.S. government. It sends American scholars, professionals, students and educators to other nations to study, conduct research or teach and provides similar opportunities for students and scholars from abroad to come to the U.S.
In addition to Stevenson, three other UD students were selected in May to receive grants from the highly competitive Fulbright Program to support their education at overseas institutions -- Adrienne Harding in music, in Austria; Devin Wardell in fashion and apparel studies, in India; and Corinne Weidinger in art history, in Belgium.