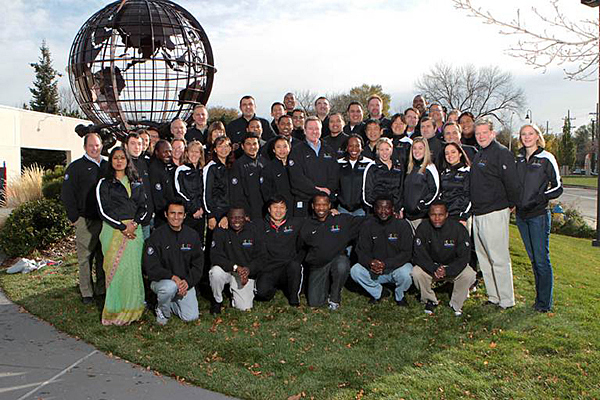 International coaching
Partnership program welcomes coaches from five continents
1:31 p.m., Dec. 21, 2011--The U.S. Olympic Committee (USOC), the University of Delaware and the International Olympic Committee's (IOC) Olympic Solidarity department have partnered once again to offer the fourth edition of the International Coaching Enrichment Certification Program (ICECP), welcoming 32 national coaches representing five continents, 32 countries and 10 sports to UD and the United States.
"It is a true honor to have the opportunity to work with the USOC and the IOC Olympic Solidarity in offering the ICECP, stated UD ICECP Director Matthew J. Robinson, professor of business administration. "Olympic Solidarity (OS) is instrumental in growing sport and increasing sport opportunities worldwide, and we are very fortunate we can contribute to OS fulfilling that mission. The USOC has made an incredible commitment to the program to make it world class."
Fulbright awards
Three University of Delaware students and an alumna have received word this spring that they will travel abroad as part of the newest class of Fulbright Student Program award winners.
Peace Corps plans
Two University of Delaware students, John McCarron and Bridgette Spritz, have been selected as Peace Corps volunteers and will serve in Ghana and Rwanda.
The International Coaching Enrichment Certification Program is an intensive coaching education program held on the UD campus, at the U.S. Olympic Training Center in Colorado Springs, Colo., and at apprenticeship sites around the country.
"We are pleased to continue our partnership with the IOC and the University of Delaware to offer coaches from around the globe a world-class education program," said USOC CEO Scott Blackmun. "The ICECP is a fantastic platform that has a positive impact on the Olympic Movement by further developing the administrators of sport all over the world."
The 2011 ICECP includes coaches from American Samoa, Antigua and Barbuda, Aruba, Austria, Bangladesh, Barbados, Belize, Bhutan, Bosnia and Herzegovina, Brazil, Cambodia, China, Cook Islands, Egypt, Ethiopia, Federated States of Micronesia, Fiji, Georgia, Guam, Japan, Macedonia, Malawi, Malaysia, Namibia, Nepal, Pakistan, Romania, Saudi Arabia, South Africa, St. Vincent and the Grenadines, Taiwan and Tanzania.
The program was launched Oct. 1 on the UD campus by keynote speaker Nancy Hogshead-Makar, three-time Olympic gold medalist in swimming events at the 1984 Summer Games. She is a professor of law at Florida Coastal School of Law and currently serves as the senior director for legal advocacy for the Women's Sports Foundation.
The program consists of four modules; the first was administered Oct. 1-15 at UD. The participants attended lectures and presentations by UD faculty and coaches and external sport performance experts on a variety of coaching education and sports science topics.
"The UD faculty and intercollegiate athletics coaches who lectured in the program were outstanding. We could not do the program without their contribution," Robinson noted. "It is an honor to count them as colleagues and friends."
The second module, from Oct. 16-27, was a sport-specific apprenticeship that allowed participants to observe and interact with coaches from national governing bodies, university athletic teams or elite sport clubs in each of their respective sports.
Apprenticeship sites included Penn State University track and field and fencing; North Baltimore Aquatic Club, home of Olympic Champion Michael Phelps; Germantown Academy swimming program, which is led by U.S. national team coach for the 2011 Pan American Games, Richard Shoulberg; University of North Carolina Chapel Hill women's basketball; University of Delaware volleyball, men's and women's basketball and track and field; U.S. Air Force Academy boxing team; USA Wrestling; Lehigh University men's and women's basketball; DeSales University basketball and Easton Newberry Sports Complex; the Pedro Judo Center in Boston; and the University of Colorado Colorado Springs women's volleyball team
The third module was held at the Olympic Training Center in Colorado Springs on Oct. 28–Nov. 9, and consisted of a continuation of lectures and group work activities during a two-week period taught by USOC sport performance and coaching experts.
In the final module, to be held in April 2012 at IOC Headquarters in Lausanne, Switzerland, participants will present the results of projects they developed and implemented under the guidance of International tutors from the U.S., Canada, Spain and the United Kingdom. The projects will be reviewed by the ICECP Academic Board.