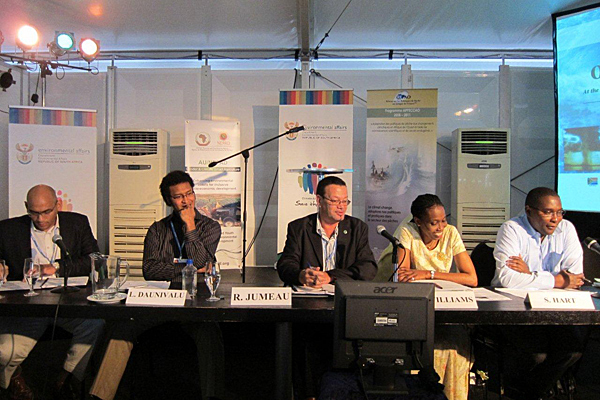 Oceans Day
UD researchers highlight oceans at UN climate negotiations
8:28 a.m., Dec. 22, 2011--Oceans play a central role in climate—generating oxygen, absorbing carbon dioxide and regulating climate and temperature. However, climate change is predicted to have adverse impacts on ocean resources and coastal communities, including ocean warming, sea-level rise and extreme weather events. Coastal countries and small islands in particular stand to experience irreversible damage with severe socioeconomic implications. 
Delegates from around the world gathered in Durban, South Africa, earlier this month to work towards a global consensus to address climate change, and University of Delaware researchers played a lead role in discussions on the importance of oceans in climate issues.
Fulbright awards
Three University of Delaware students and an alumna have received word this spring that they will travel abroad as part of the newest class of Fulbright Student Program award winners.
Peace Corps plans
Two University of Delaware students, John McCarron and Bridgette Spritz, have been selected as Peace Corps volunteers and will serve in Ghana and Rwanda.
The Global Ocean Forum, which is led by Biliana Cicin-Sain, professor of marine policy and director of UD's Gerard J. Mangone Center for Marine Policy in the College of Earth, Ocean, and Environment, co-organized Oceans Day at Durban together with the government of South Africa, the Global Environment Facility, the United Nations Development Programme and many other co-organizers at the 17th Conference of the Parties to the U.N. Framework Convention on Climate Change (UNFCCC COP 17).
Oceans Day at Durban, the third Oceans Day held at a UNFCCC COP, featured presentations from representatives from all sectors, including governments, international agencies, nongovernmental organizations and the scientific community on major issues related to oceans and climate change. Speakers included: 
Ben Ngubane, former premier of KwaZulu-Natal Province, former minister of science and technology, and former ambassador of South Africa to Japan;
Ronald Jumeau, permanent representative of Seychelles to the United Nations; 
Dessima Williams, permanent representative of Grenada to the United Nations and chair, Alliance of Small Island States; 
Rejoice Mabudafhasi, ministry of water and environmental affairs, South Africa;
Naledi Pandor, minister of science and technology, South Africa; 
Luke Daunivalu, deputy permanent representative of Fiji to the United Nations; and 
Michel Jarraud, secretary-general, World Meteorological Organization (WMO).
More than 170 leaders from all sectors of the global oceans community gathered at Oceans Day to discuss the direct links between climate change, the health of the oceans and human well-being, as well as the need for bold mitigation and adaptation measures to minimize climate change impacts on coastal communities and ocean ecosystems and resources.
The co-chairs of Oceans Day, in collaboration with Oceans Day participants, drafted a statement that highlights the growing consensus of the global community to address oceans and puts forth recommendations to high-level decision makers and the negotiators participating in the U.N. climate negotiations, including the need for:
Ecosystem approaches to adaptation through integrated coastal and ocean management institutions at various levels to build the preparedness, resilience and adaptive capacities of coastal communities;
Technical assistance for small island developing states and developing countries to build institutional capacity to implement adaptation measures, early warning systems and disaster risk reduction; and
Greater recognition in the UNFCCC negotiating text of the important role played by oceans in climate, as well as the designation of an oceans focal point within the UNFCCC Secretariat.
Cicin-Sain noted that,"As a follow-up, the Global Ocean Forum will be working with the UNFCCC Secretariat and with leaders from coastal and ocean countries to achieve the Durban recommendations on oceans and climate in future climate negotiations, as well as in the 'Rio+20 process' leading up to the United Nations Conference on Sustainable Development in Rio de Janeiro in June 2012."
Article by Joseph Appiott
Photo by J. Robert Gibson