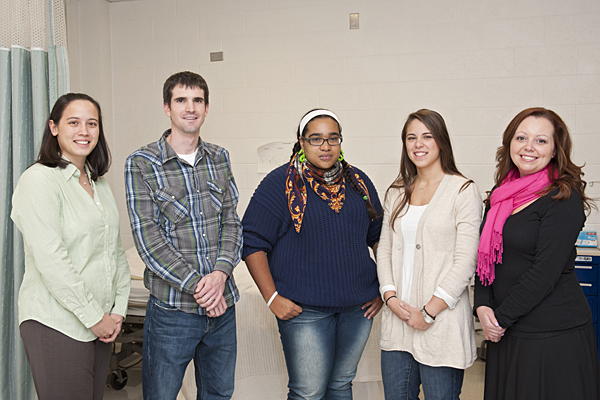 Nursing program
Scholarships support development of diverse pool of nursing professionals
9:54 a.m., Dec. 5, 2011--Five students in the University of Delaware's accelerated nursing program have received scholarships of $10,000 each through a grant from the Robert Wood Johnson Foundation (RWJF) New Careers in Nursing (NCIN) scholarship program.
The NCIN scholarship program was launched in 2008 by RWJF and the American Association of Colleges of Nursing to address the national nursing shortage, develop a diverse professional nursing workforce and fuel the pipeline of nurse faculty and leaders. The scholarships support students who are disadvantaged or traditionally underrepresented in the field of nursing.
From graduates, faculty
As it neared time for the processional to open the University of Delaware Commencement ceremonies, graduating students and faculty members shared their feelings about what the event means to them.
Doctoral hooding
It was a day of triumph, cheers and collective relief as more than 160 students from 21 nations participated in the University of Delaware's Doctoral Hooding Convocation held Friday morning on The Green.
"Through the NCIN program, we are challenging nursing schools across the country to expand nurse leadership and strengthen education, two clear goals of the landmark 2010 Institute of Medicine report on 'The Future of Nursing,'" says Denise Davis, RWJF program officer for NCIN. "By diversifying the nursing profession through these scholarships, we are also helping to create a health care workforce ready to meet the needs of the 21st century American patient."
Kathy Schell, interim director of UD's School of Nursing, emphasizes that the program provides the participants with a strong support network, including mentoring, leadership opportunities, financial support for professional development and assistance with study skills and time management.
"The program has a high success rate across the country," Schell says. "These resources give students a jump start that really seems to work in developing leaders."
The following are brief biographies of the 2011–2012 academic year scholarship recipients:
Amanda Borcky, from New Castle, Del., is a 2011 graduate of Virginia Tech with a degree in human nutrition, foods and exercise. Although she originally planned to be a dietician, Borcky's experiences with shadowing a nurse and volunteering in an emergency room convinced her that nursing was the path for her. "The Accelerated Nursing Program is a great opportunity for me to apply my nutrition degree while also being heavily involved in hands-on patient care," she says. Borcky plans to eventually earn a master's degree and become a nurse practitioner. She is particularly interested in HIV/AIDS and sickle cell disease.
Christine Gregory, who lives in Wilmington, Del., earned her bachelor's degree in biology from Randolph College in 2003. She spent five years doing preclinical testing of candidate drugs for AstraZeneca in Wilmington, Del. When she decided to return to school, she selected UD's accelerated nursing program as an avenue to midwifery. "I began to research this topic as both an option for my future care during pregnancy and childbirth and then later as a possible career," she says. "The idea came because not only could I attend to births, but as a certified nurse midwife I would also have an educational background to help women better understand their bodies in a clinical setting as well as public outreach and education."
Bettina Holden, from Wilmington, Del., earned her bachelor's degree in fine arts at the University of Delaware in 2008. "I was a printmaking major with an interest in medicine," she says. "Most of my senior work was based on disease, microbiology and anatomy and physiology, so I decided to pursue a medical field as soon as I graduated." Holden plans to become an emergency room nurse when she completes the program.
Rebecca Ivory, from Swedesboro, N.J., earned her bachelor of arts degree in history at UD in 2006. "I've wanted to be a nurse since I first attended UD," she says. She worked as a contractor for the U.S. Navy for several years after graduation and reconnected with her interest in nursing after helping care for her grandfather. Ivory would ultimately like to work in the area of prosthetics and limb replacement. "UD's accelerated program was always my top choice because I knew it was a high-caliber program, it was highly regarded by area hospitals, and it had the most clinical experience of any accelerated program I found," she says. "The clinical aspect was a major qualifier for me because I was transitioning from being an auditor to being a nurse—very different careers."
Daniel Pratt, from Wilmington, Del., holds two degrees from UD: a bachelor of arts degree in history education with a Spanish minor (2006) and a master's degree in languages and literature (2010). "I taught high school Spanish for three years," he says, "but about midway through my M.A., I began to consider other careers where I could combine my passion for helping others, my fluency in Spanish, and my desire to learn a new set of practical skills. After much research, reflection, and speaking to friends and family members in the field, I decided to pursue a career in nursing." He said he hopes to gain some experience in an acute-care setting after graduation and eventually to pursue an advanced practice degree in nursing.
About the NCIN program
The NCIN program was created to enable schools of nursing to expand student capacity in accelerated baccalaureate and master's programs and build a more diverse workforce ready to serve the needs of a changing patient population. Schools receiving grants through NCIN provide scholarships directly to students from groups underrepresented in nursing or from disadvantaged backgrounds.
The program addresses a number of the challenges confronting nursing education, professional development and the national workforce shortage. Accelerated programs like the ones supported by NCIN provide scholars with the most efficient route to licensure as registered nurses and create opportunities for adults who have already completed a baccalaureate or graduate degree in a field other than nursing. These programs prepare students to pass the licensure examine required for all RNs in as little as 12-18 months and provide quicker routes to workforce eligibility than traditional programs.
By bringing more nurses into the profession at the baccalaureate and master's degree levels, the NCIN program also helps to address the nation's nurse faculty shortage. Data from the U.S. Health Resources and Services Administration show that nurses entering the profession via baccalaureate programs are four times more likely than other nurses to pursue a graduate degree in nursing. This trend is reflected in the NCIN scholars, as 91 percent of the students receiving funding in the first three years of the program indicate a desire to advance their education to the master's and doctoral levels.
Article by Diane Kukich
Photo by Evan Krape