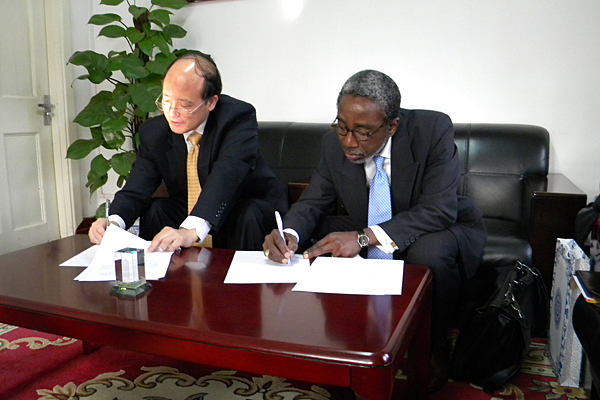 Global Exchange Initiative
College of Engineering, Peking University sign strategic partnership
8:30 a.m., Dec. 16, 2011--The University of Delaware's College of Engineering and Peking University (PKU) have signed a Global Educational Exchange Initiative (GLOBEX), deepening a growing strategic partnership and formalizing educational exchange and research collaboration between the two entities.
Under GLOBEX, UD undergraduate students and faculty will be allowed to conduct an intensive six-week summer program at PKU, while PKU undergraduate students will spend an entire semester at UD.
Fulbright awards
Three University of Delaware students and an alumna have received word this spring that they will travel abroad as part of the newest class of Fulbright Student Program award winners.
Peace Corps plans
Two University of Delaware students, John McCarron and Bridgette Spritz, have been selected as Peace Corps volunteers and will serve in Ghana and Rwanda.
The agreement was signed by College of Engineering Interim Dean Babatunde A. Ogunnaike and Shiyi Chen, dean of engineering at Peking University, also known as China's Harvard.
Interactions between the two institutions date back to early 2010 when a UD delegation traveled to China to strengthen strategic partnerships with several institutions of higher education, among them PKU. A second visit by Anette Karlsson, chair of the Department of Mechanical Engineering, followed in April 2010.
"Partnership with Peking University creates avenues by which exceptional students and faculty can gain global education, research and professional experience" said Ogunnaike.
UD students have the option of taking courses taught by a UD professor, courses offered by PKU's other GLOBEX partners or elective PKU courses related to Chinese language, history and culture. Similarly at UD, PKU students will take six credits of coursework, including a global multidisciplinary design course, and conduct undergraduate research with UD faculty.
"For UD students this offers a study-abroad opportunity at the best institution in the political and cultural center of China," said Lian-Ping Wang, professor of mechanical engineering and UD faculty coordinator for the program. "For UD faculty, this is an opportunity to have global impact in education and to develop global collaborations in research."
The program is limited to six students from each university during any one academic year. PKU student participants are expected to be ranked within the top 30 percent of their class. UD students will be selected by the engineering faculty. 
While a few implementation details remain to be finalized, Ogunnaike said that the agreement is a significant component of plans to extend the education of future engineers beyond the fundamentals of science and engineering, to include elements of globalization, leadership and entrepreneurship.
"Ultimately, we hope the program will foster strong relationships among participants and lead to mutual cross-culture education and research projects," he said.
The exchange initiative is expected to begin this spring at UD and summer 2012 at PKU.
Article by Karen B. Roberts