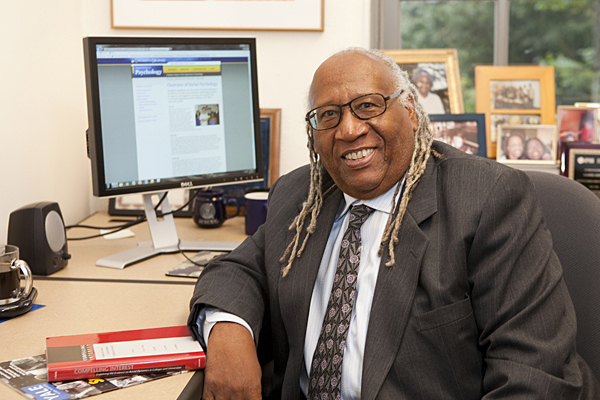 Diversity studies
New center to serve as scholarly resource on diversity studies
10:51 a.m., Dec. 8, 2011--The University of Delaware's new Center for the Study of Diversity will serve as a scholarly think tank that not only conducts research but also helps guide the University in finding the best ways to support diversity on campus.
That's the vision of James Jones, professor of psychology and director of the center, whose own academic career has involved more than three decades of research, scholarship and professional service focused on issues of racism and diversity. The center will officially be launched in January, but Jones has been making plans for some time so that he and other faculty members can immediately get to work.
From graduates, faculty
As it neared time for the processional to open the University of Delaware Commencement ceremonies, graduating students and faculty members shared their feelings about what the event means to them.
Doctoral hooding
It was a day of triumph, cheers and collective relief as more than 160 students from 21 nations participated in the University of Delaware's Doctoral Hooding Convocation held Friday morning on The Green.
"Diversity is a complex issue in an increasingly diverse world," Jones said. "I see the center as a place where we will accumulate knowledge and disseminate it—where our main product is information." The center's mission statement specifies a goal of "promoting academic research and scholarship that facilitates dialogues about and understanding of the social and academic impact of diversity."
The center, which will serve the entire University but is housed in the College of Arts and Sciences, is part of UD President Patrick Harker's diversity initiative, which he discussed at the Dec. 6 Board of Trustees meeting.
"I'm serious about making UD a more welcoming, more inclusive institution because we can no longer say that we're fundamentally preparing students for life and for work if we're not preparing them for diversity," Harker said. "Students must get an education that's anchored in learning from and about diverse perspectives and people."
Jones said the first step in planning the center has been to assemble a group of faculty scholars whose research and scholarship relate to issues of diversity. About 15 current faculty members make up the group, in academic fields ranging from biology and mathematics to art, sociology and political science, with additional faculty positions expected in the near future. 
"The faculty scholars are the core of the center," Jones said. "It's their work that will be the foundation of everything we do."
He said the center will encompass many disciplines and perspectives but will be guided by four principles — that diversity must be a core value, an institutional priority, based on smart practices and supported by appropriate institutional change.
UD already has identified diversity as a core value, Jones noted, quoting the Path to Prominence strategic plan, which calls diversity "an integral and vital part of everyday life and a cornerstone value of our University." In addition, the College of Arts and Sciences' strategic plan emphasizes a commitment to diversity: "Diverse backgrounds, interests, intellectual approaches, global perspectives and identities are essential to a culture of deep and engaged learning."
Institutional changes at UD include the work of such groups as the Office of Equity and Inclusion and the Diversity and Equity Commission, as well as the President's Diversity Initiative and the new center, Jones said.
"The College of Arts and Sciences is delighted to support the President's Diversity Initiative through the establishment of this new center," said Ann Ardis, deputy dean of the college, "and we are immensely grateful to Prof. Jones for his leadership."
Jones said that longer-term plans for the center may include establishing a group of faculty affiliates from other universities, who will collaborate with UD faculty on various projects; hosting scholarly lectures and workshops on diversity topics; issuing working papers on subjects that may be useful to the University and other institutions; and offering small research grants to faculty members focusing on key areas. Eventually, he said, an undergraduate minor in diversity studies might be established.
"In principle, of course, diversity is good, but it's not good if the efforts to promote diversity aren't done in the right way or aren't effective," Jones said. "We need to evaluate what works and what doesn't, and we need to be creative in our approach. I think the center will be able to help the University do that."
Article by Ann Manser
Photo by Ambre Alexander