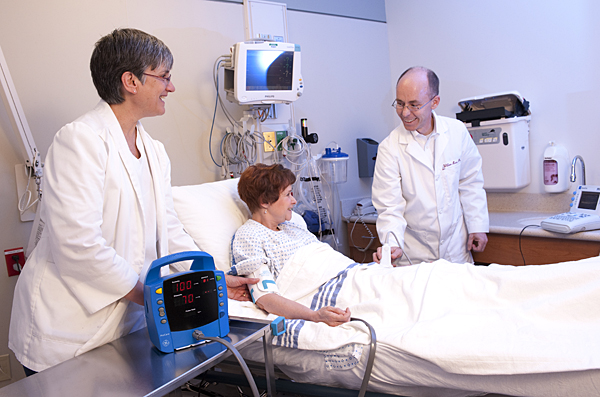 Schell honored
Nursing professor receives state award for excellence in education
10:32 a.m., Aug. 1, 2011--Kathleen Schell, associate professor and interim director of the University of Delaware School of Nursing, has received the 2011 Nurse Educator Award from the Delaware Nurses Association. 
The award was one of several Delaware Excellence in Nursing Practice Awards granted by the DNA in partnership with the Delaware Organization of Nurse Leaders.
National Medal of Science
President Barack Obama recently presented the National Medal of Science to University of Delaware alumnus Rakesh Jain.
Warren Award
Rosalind Johnson, assistant dean for student success in the NUCLEUS Program in UD's College of Arts and Sciences, was presented the John Warren Excellence in Leadership and Service Award during a May 26 ceremony.
The awards recognize those in the nursing field who consistently promote, excel, and bring a positive approach to their area of nursing practice. The nominations are reviewed and scored by a peer review process.
The recipients were recognized at a ceremony at the Modern Maturity Center in Dover on Thursday, July 14.
Schell holds a bachelor of science degree in nursing from Indiana University of Pennsylvania, a master's degree in nursing from the University of Delaware, and a doctoral degree in nursing education from Widener University.
A UD faculty member since 1992, Schell teaches a variety of classroom and clinical courses in the undergraduate and graduate nursing programs with a focus on adult health and critical care nursing. Her research focuses on innovative teaching in the undergraduate classroom and the accuracy of blood pressure measurement. At UD, she has been involved in curriculum development and the integration of problem-based learning and clickers in the nursing classroom.
In addition to Schell's honor, Allen Prettyman, instructor, was a finalist in the nurse educator category this year, and Prof. Janice Selekman won the award in 2010.
Article by Diane Kukich
Photo by Kathy F. Atkinson