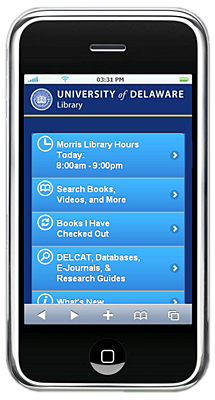 Library goes mobile
University of Delaware Library announces mobile-friendly version of home page
10:13 a.m., Aug. 19, 2011--The University of Delaware Library announces a mobile-friendly version of its home page. The mobile-friendly version focuses on the information and services that are most frequently accessed by users and appropriate to a mobile device.
In order to provide mobile users with the best experience, the design does not include everything available on the current library home page.
From graduates, faculty
As it neared time for the processional to open the University of Delaware Commencement ceremonies, graduating students and faculty members shared their feelings about what the event means to them.
Doctoral hooding
It was a day of triumph, cheers and collective relief as more than 160 students from 21 nations participated in the University of Delaware's Doctoral Hooding Convocation held Friday morning on The Green.
The development of the mobile-friendly library web page is an ongoing process. The mobile-friendly web page is accessible online. 
Users accessing the library home page from a mobile device will be directed automatically to the mobile-friendly version. The image above provides an example of what the mobile page looks like on an iPhone.