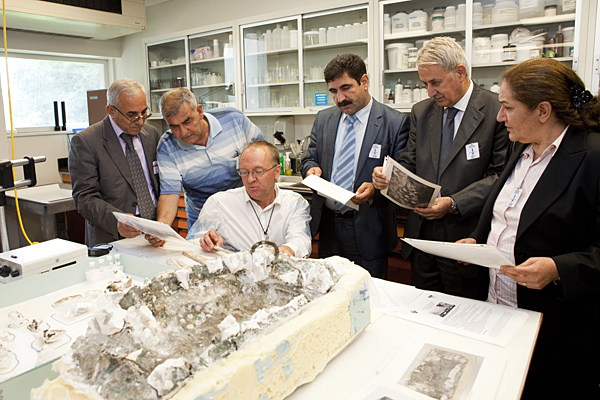 Partners in preservation
Group working on conservation of Iraqi heritage meets in Delaware
8:03 a.m., Aug. 5, 2011--A delegation of Iraqis who are dedicated to preserving their nation's cultural heritage gained a new perspective—while sharing their own—during a recent visit to Delaware.
The group of seven represented the five-member board of directors and two Iraqi advisers of the Iraqi Institute for the Conservation of Antiquities and Heritage, an ambitious program to train museum and preservation professionals in the best methods of protecting their collections and archaeological sites. Located in Erbil in northern Iraq, the institute is funded by a grant from the U.S. Embassy in Iraq that is administered through a partnership led by the University of Delaware.
Fulbright awards
Three University of Delaware students and an alumna have received word this spring that they will travel abroad as part of the newest class of Fulbright Student Program award winners.
Peace Corps plans
Two University of Delaware students, John McCarron and Bridgette Spritz, have been selected as Peace Corps volunteers and will serve in Ghana and Rwanda.
Since the institute began in 2009, the University, Winterthur Museum and the Walters Art Museum in Baltimore have worked with Iraq's State Board of Antiquities and Heritage and the Kurdish Regional Government to create academic programs and construct modern facilities, with classes taught by permanent and visiting faculty from UD and many other institutions. A $500,000 grant from the U.S. Embassy in Iraq, awarded early this year and administered by UD's Institute for Global Studies, is allowing the program to continue and expand.
For the Iraqi heritage professionals who visited Delaware and the region in late July, "Our goal was to strengthen the connection between the American and Iraqi leaders of the institute by meeting in person as a group," said Debra Hess Norris, Henry Francis du Pont Chair in Fine Arts and chair of UD's Department of Art Conservation, who helped spearhead plans for the institute. "It was a chance to bring together all these people who care very deeply about the preservation of Iraq's cultural heritage."
In addition to joint meetings at Winterthur in which the institute's directors and advisory council members were able to discuss their mission and goals, the weeklong visit included tours of Winterthur's renowned conservation laboratories and of the UD campus. The group also visited the Walters Art Museum, which is known for professional standards in conservation, training and museum practice, and other museums, from the large exhibition spaces of the Smithsonian in Washington, D.C., to the small Chester County (Pa.) Historical Society and the George Read House in New Castle, Del.
"We gave them a tour of all our conservation labs—metals, glass, ceramics—and the work we're doing," said Bruno Pouliot, Winterthur's objects conservator and a UD assistant professor of art conservation. "We showed them, not just the preservation techniques, but also how we teach museum professionals and conservators."
Members of the delegation described the visit as informative and collegial. 
"It has been a golden opportunity for me to visit and tour these places," said Noman Ibrahim, a member of the institute's board of directors and professor of archaeology in Iraq. "We saw many important exhibits, and I very much admire the good care that's being taken of objects in the museums we visited."
Another board member, Muna Hasan Abbas, who is the head of archaeology collections at the Iraq Museum in Baghdad, also said she benefited from viewing the conservation techniques at Winterthur and various museums, with an eye to having the same types of facilities at the institute. "It made me think I should have visited years ago, if I could go back in time," she said.
Norris said the Americans were able to broaden their own perspectives by hearing the Iraqis discuss the institute's mission, plans and challenges. "Together, we've built this remarkable institute, in really a very short time," she said. "We hope the institute will be a model of excellence, for the United States, for Iraq and also for the world."
Ibrahim agreed that the institute—which has trained 44 professionals from across Iraq in its full-length program and about another 55 in shorter courses—is off to a great start. The U.S. Embassy in Iraq grant continues through December, after which new funding will be required.
"The institute is in its infancy, but I'm very optimistic about the success of our mission," Ibrahim said. "We're at the beginning of the road, but we'll be going far."
The next joint meeting of the board of directors and the advisory council will be held in October in Iraq.
Article by Ann Manser
Photo by Ambre Alexander