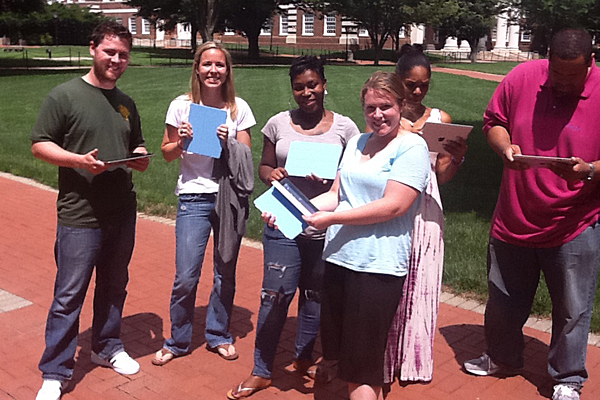 Using iPads to educate
Can iPad usage increase academic achievement?
9:52 a.m., Aug. 3, 2011--New technology, such as the Apple iPad, has the potential to bridge the digital divide and help disadvantaged students acquire the skills necessary to advance in our technological society. To date though, little systematic work has been conducted to determine the most effective ways the iPad can be utilized in a classroom setting, or its actual impact on student learning. 
Chrystalla Mouza, Carol Vukelich and Fred Hofstetter at the University of Delaware are looking to address this need.  Using a grant received through the federal Improving Teacher Quality State Grants (Title II, Part A) Professional Development Program, they have established the iPad Professional Development Institute.
From graduates, faculty
As it neared time for the processional to open the University of Delaware Commencement ceremonies, graduating students and faculty members shared their feelings about what the event means to them.
Doctoral hooding
It was a day of triumph, cheers and collective relief as more than 160 students from 21 nations participated in the University of Delaware's Doctoral Hooding Convocation held Friday morning on The Green.
The purpose of the grant is to increase academic achievement by improving teacher quality in high need schools. Partners in the grant are Kuumba Academy, Thomas Edison Charter School, East Side Charter School and Prestige Academy, all inner city charter schools in Delaware that serve predominantly low-income, minority populations.
The program was unveiled in July, when 14 teachers in coordinated teams met for the inaugural iPad Professional Development Institute. The weeklong session, held at UD, not only helped teachers become familiar with educational tools and applications available, but also exposed them to good practices for integrating technology to support their students' learning. Each teacher received an iPad as part of their participation and learned to design lessons that integrated the iPad into their curriculum. 
"During the upcoming academic year, we will observe the teachers' classrooms to document the ways in which participants carry their learning into practice.  We will evaluate how well the iPads are used for professional and instructional tasks and assess any positive impact on student learning as a result of increased motivation and engagement with school work," says Mouza, associate professor of educational technology.
In the fall, participating schools will receive sets of iPads for their students as well. The use of iPads is expected to help motivate students in a myriad of ways.  They can provide a valuable resource to help get urban children "hooked" on reading. Popular children's authors and high-quality reading resources can be found online, often free of charge.
In addition, while they are reading, students can annotate and bookmark materials, look up words using the built-in dictionary, write notes as they read, copy and paste text information and email questions directly to their teachers. 
The institute will collect the teachers' lessons found to be most effective and distribute them online as examples to other teachers and districts that are considering implementing iPad initiatives.
Owen Ricciardi, middle school dean at East Side Charter School, was enthusiastic about the program.  "As someone who is constantly trying to find new and exciting ways to teach my students I am thrilled to be bringing an iPad into my classroom.  I think our reading program would benefit astronomically from a classroom set of iPads," Ricciardi says.
The iPad Professional Development Institute was designed and implemented by Mouza and Hofstetter, professor of educational technology, in collaboration with two students: Kolby Dukes an undergraduate student in computer science with a minor in educational technology and Tommi Barrett Greenly, a doctoral student in educational technology and former teacher of the year in the Milford School District. The educational technology program is in the College of Education and Human Development.
Vukelich, Bonnie Albertson and Christine Evans of the Delaware Center for Teacher Education were instrumental in planning the institute and recruiting teachers. The Research and Development Center, including Joan Buttram, Leslie Cooksy and Emily Poag, will oversee the evaluation of the professional development activities delivered through the grant and Maureen Laffey, director of the Higher Education Office in the Delaware Department of Education, manages the Title II grant and will provide support throughout the duration of the grant.  
Hofstetter says he is very optimistic about the use of technology in the classroom.  "We hope that our team will secure another grant in the upcoming competition that will enable us to provide additional iPads and professional development to our partner schools.  Until then, we have developed an electronic iPad Primer that includes video tutorials and links to the apps taught in the institute."
The primer can be accessed using iBooks on the iPad.  To learn more about available resources for iPad education or UD's iPad Professional Development Institute, visit the website.
iPad on campus
On Aug. 1, the new University of Delaware Bookstore opened on Main Street, featuring an Apple Authorized Campus Store.  UD students, faculty and staff can now purchase Apple equipment and supplies right on campus.
Article by Alison Burris