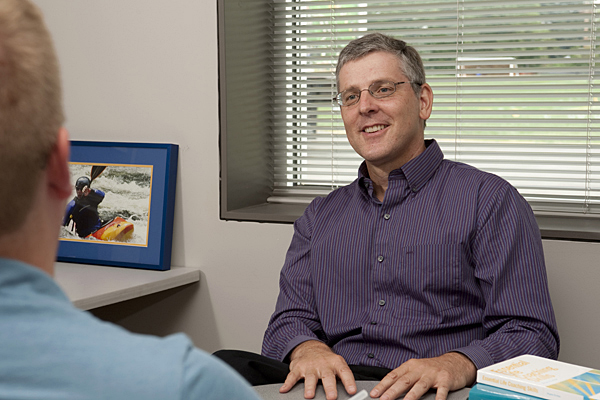 Coaching a path to wellness
New certificate program will help people help themselves when it comes to health
9:14 a.m., Aug. 30, 2011--The Delaware Health Sciences Alliance has awarded a $20,000 educational grant to a team led by Michael Peterson, chair of UD's Department of Behavioral Health and Nutrition, to develop a post-baccalaureate health coaching certification program at the University of Delaware.
"With the changes brought about by health care reform, there is now a much greater emphasis on health promotion and disease prevention," says Doug Tynan, a psychologist with Nemours Health and Prevention Services. "However, our health work force is much more focused on clinical evaluation and treatment than on prevention. This new program will train students in the motivational and behavior change skills necessary to promote health and prevent disease."
From graduates, faculty
As it neared time for the processional to open the University of Delaware Commencement ceremonies, graduating students and faculty members shared their feelings about what the event means to them.
Doctoral hooding
It was a day of triumph, cheers and collective relief as more than 160 students from 21 nations participated in the University of Delaware's Doctoral Hooding Convocation held Friday morning on The Green.
The post-baccalaureate program is aimed at preparing health professionals to work in a clinical setting as part of a team to facilitate behavior change among at-risk patients, to decrease demand for health care services and to reduce morbidity across the lifespan.
"Sixty percent of the factors leading to premature death are under our control," says Peterson. "These include things like smoking, obesity, stress and inactivity. Health coaching is emerging as a viable way to help people adopt behaviors that reduce their risk for chronic disease as well as modify and stop behaviors that are detrimental to their health."
The health coaching certification is a logical next step in an academic track at UD that already includes a B.S. in health behavior science and an M.S. in health promotion. In fact, according to Peterson, overlap in the course offerings for the master's degree and the coaching certificate will enable interested students to earn both credentials at the same time with just a few additional requirements.
"UD is out in front in health promotion, wellness and behavioral change," Peterson says. "And working with our DHSA partners on the project brings valuable added expertise—in pediatrics, geriatrics, pharmacology and other fields. It's critical that we look at the entire lifespan as we develop this program so that we can prepare our students for all aspects of health coaching."
"Our clinical partners will also help us provide our students with practicum placements so that they can learn within authentic settings," he adds.
About DHSA
The Delaware Health Sciences Alliance was established in 2009 with four founding partners—Christiana Care Health System, Nemours/Alfred I. duPont Hospital for Children, Thomas Jefferson University and the University of Delaware.
The alliance enables partner organizations to collaborate and conduct cutting-edge biomedical research, to improve the health of Delawareans through access to services in the state and region, and to educate the next generation of health care professionals.
DHSA's unique, broad-based partnership focuses on establishing innovative collaborations among experts in medical education and practice, health economics and policy, population sciences, public health, and biomedical sciences and engineering. For more visit information, visit the website www.dhsa1.org.
About the project
Co-investigators on the project to develop the health coaching certificate program are Deborah Ehrenthal (Christiana Care), Carol Beck (TJU), Doug Tynan (Nemours), Karen Avino (UD), Nancy Cotugna (UD), Elizabeth Orsega-Smith (UD), Dale Lowe (Christiana Care), Gwen Angelet (Nemours), and Kathleen Schell (UD). 
This group, which serves as a steering committee, includes physicians, pharmacists, nurses, and experts in nutrition, exercise science and behavioral health.
Article by Diane Kukich
Photo by Kathy F. Atkinson