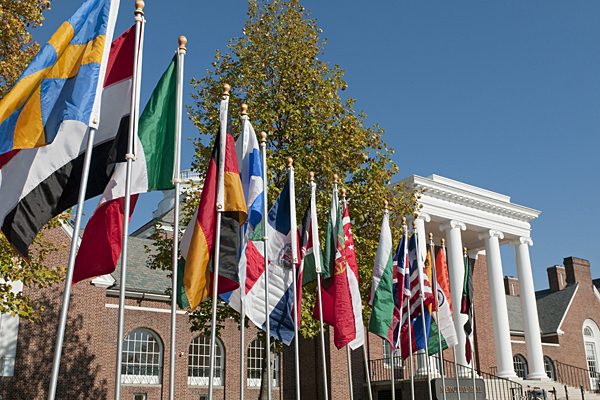 World class
University's graduate programs see increasing international interest
Editor's note: To view a new video highlighting graduate education at the University of Delaware, visit this website.
11:51 a.m., Aug. 31, 2011--The University of Delaware typically receives applications for graduate school from students around the world. But this fall's entering graduate class is one of the most cosmopolitan in UD's history.
The University currently has 3,400 students in graduate and professional education. That number includes 1,241 freshly matriculated graduate students. Thirty-five percent, or 429, of these new graduate students are from countries other than the United States, an 8 percent increase over last year. 
Fulbright awards
Three University of Delaware students and an alumna have received word this spring that they will travel abroad as part of the newest class of Fulbright Student Program award winners.
Peace Corps plans
Two University of Delaware students, John McCarron and Bridgette Spritz, have been selected as Peace Corps volunteers and will serve in Ghana and Rwanda.
UD's graduate and professional programs continue to attract students from across the United States and around the globe.  The University received approximately 8,000 graduate applications this year, according to Charlie Riordan, vice provost for graduate and professional education. 
Students from 108 countries sought graduate admission this fall. The entering class, which encompasses the spring, summer and fall 2011 semesters, includes students from 57 countries—with China and India providing the largest numbers of international students.
Fifteen countries that were not represented last year now have students entering UD. They include Australia, the Bahamas, Bosnia and Herzegovina, Burundi, Denmark, the Dominican Republic, Guatemala, Guyana, Morocco, the Former Yugoslav Republic of Macedonia, Paraguay, El Salvador, Sierra Leone, Slovakia and South Africa.
"The University's international stature continues to rise," Riordan says. "With strong research and academic programs, UD increasingly is being recognized as a world-class university. And having a recent Nobel Prize winner doesn't hurt either," he notes, referring to 2010 Nobel Laureate Richard F. Heck, Willis F. Harrington Professor Emeritus of Chemistry and Biochemistry. "Winning science's highest honor underscores the excellence of the University of Delaware."
Additionally, many of UD's doctoral programs were ranked among the best in the U.S. by the National Research Council in a survey released last September, which examined criteria such as student financial support, average time to degree completion, student career plans and diversity of the academic environment.  
According to Riordan, this fall's entering graduate class is 54 percent female, roughly similar to past years. One-third of the new students are enrolled in doctoral programs, and two-thirds in master's programs. 
Among the highest-enrollment UD graduate programs this year, with more than 25 new students, are accounting, finance, MBA, chemistry and biochemistry, chemical engineering, civil and environmental engineering, computer science, electrical engineering, mechanical engineering, nursing MSN, physical therapy, and the dietetics certificate program. The School of Education has 104 new graduate students.
Article by Tracey Bryant
Photo by Evan Krape
Video by University Media Services