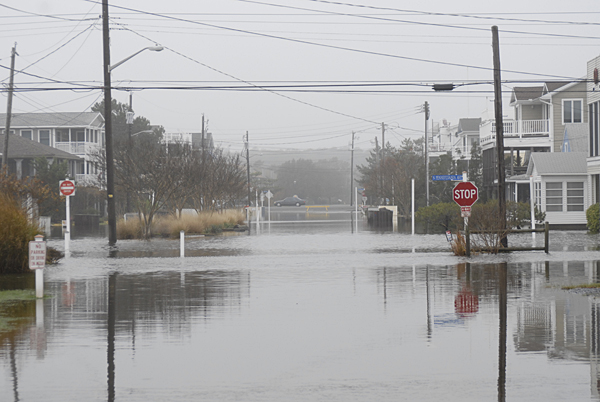 Prepping for Irene
State officials benefit from CEOE expertise on storms
2:59 p.m., Aug. 25, 2011--We all have a favorite TV station, website, or phone app that we consult for information as storms approach our area. But where does the state turn when it needs real-time, regional weather data to make critical decisions related to storm events such as Hurricane Irene? 
Two sources are the Delaware Environmental Observing System (DEOS), a real-time regional monitoring system coordinated by the University of Delaware College of Earth, Ocean, and Environment (CEOE), and the Delaware Geological Survey (DGS). 
From graduates, faculty
As it neared time for the processional to open the University of Delaware Commencement ceremonies, graduating students and faculty members shared their feelings about what the event means to them.
Doctoral hooding
It was a day of triumph, cheers and collective relief as more than 160 students from 21 nations participated in the University of Delaware's Doctoral Hooding Convocation held Friday morning on The Green.
DEOS provides 24/7 data on weather conditions, stream levels, tidal conditions, and many other environmental variables, while DGS supplies information on stream flow and coastal flooding. 
As Irene heads north, DEOS and DGS personnel are checking monitoring stations to make sure that they will be ready for what could be significant rain and wind. "Our equipment is designed to withstand some pretty extreme weather," said Dan Leathers, DEOS co-director and professor of geography. 
It's important that emergency managers and decision makers have ready access to data from the monitoring stations, he added. "Our observing systems will play an important role in emergency management, especially in regards to predicting flooding in streams." The information provided will help authorities in deciding whether to order evacuations of certain low-lying areas.
DEOS and DGS participate in the Technical Assistance Center of the Delaware Emergency Management Agency, meaning they take part in statewide conference calls to determine action needed during severe weather. When events such as hurricanes and snowstorms move in, they stay at the state's Emergency Operations Center to provide continuous updates for a number of state agencies such as the Department of Transportation.
"Together with the State Climatologist's Office, we provide general weather information, and we expand the forecast that the National Weather Service provides for the local area and tell state officials how that's going to impact their areas," said Leathers.
Throughout the year, DEOS maintains 45 automated weather stations around the state and also collects land and water data from other networks. 
The system also incorporates data from offshore ocean buoys, stream gauges, ground water level and water quality monitoring in conjunction with DGS and the Delaware National Estuarine Research Reserve. 
Not only does DEOS provide a centralized weather monitoring system for Delaware and the Delmarva Peninsula, it also archives the data for research use and provides weather information for use by citizens on its website.
Article by Ron Ohrel
Photo by Lisa Tossey