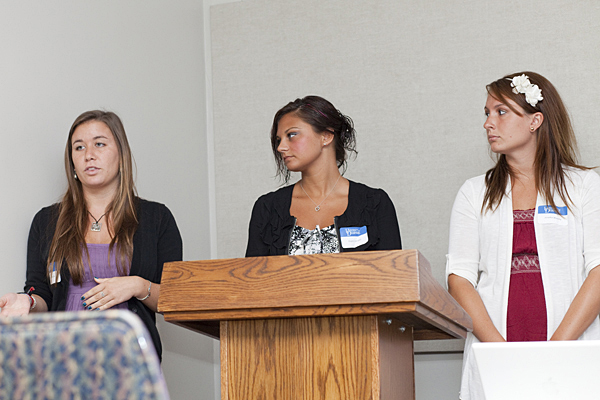 Breast cancer 'activists'
Research team develops exercise interventions for breast cancer survivors
1:48 p.m., Aug. 25, 2011--For women dealing with breast cancer treatments and side effects, exercise may be one of the last things they think about. Nancy Getchell and Lynnette Jones believe it should be one of the first. 
Getchell, a faculty member at the University of Delaware, and Jones, a senior lecturer at the University of Otago in New Zealand, are collaborating on research to guide the development of appropriate exercise programming for breast cancer patients and survivors.
Chronic wounds
UD's Millicent Sullivan and Kristi Kiick have received a $1.4 million grant from the National Institutes of Health for research that could provide a new approach to the treatment of chronic wounds.
Prof. Heck's legacy
The American Chemical Society is highlighting the legacy of the late Nobel laureate Richard Heck, the Willis F. Harrington Professor Emeritus of Chemistry at the University of Delaware with a digital tribute on its publications website.
"We've found that an individualized approach to exercise is tremendously beneficial," says Jones, who has been working in this area for the past two years. "Chemotherapy, radiation therapy and hormonal therapies affect each woman differently."
Getchell met Jones during a research sabbatical and was impressed with the program in New Zealand. 
"Oncologists there are beginning to prescribe exercise programs for their patients at the very early stages of diagnosis and treatment," Getchell says. "When I learned that there was nothing similar in Delaware, I saw it as a great way for our universities to collaborate while also developing a valuable resource for women with breast cancer in our own state."
During the summer of 2011, Getchell worked with Prof. Beth Orsega-Smith and three undergraduates in UD's Service Learning Program to develop a needs assessment for breast cancer survivors in Delaware.
Kayla Carrigan, Jennifer Murphy and Amanda Gropack conducted interviews with women to identify exercise barriers and facilitators, and they used the information to develop a survey for wider distribution. They also became certified in an exercise intervention known as PALS for Life, based on the PAL (Physical Activity and Lymphedema) protocol developed at the University of Pennsylvania. The protocol is designed to alleviate lymphedema—a common side effect of breast cancer treatment characterized by swelling of the upper body on the treatment side.
The three scholars presented their work at UD's Undergraduate Research and Service Scholar Celebratory Symposium on Aug. 10. They shared not only their research methods but also anecdotes about their experiences. One woman they interviewed said, "Personal training for breast cancer survivors is not a luxury, it's a step in the direction of our well-being."
Getchell and her undergraduate research team have also learned that the trend toward earlier diagnosis of breast cancer has implications for exercise programming.  Much of the information that currently exists about exercise focuses on older survivors and those who have experienced the disease at a later stage. "We need to design programs that are challenging enough for younger survivors," Getchell says.
She is currently planning to launch a pilot exercise program on campus in October, which is Breast Cancer Awareness Month, for UD faculty and staff survivors. The month-long program will allow her to implement the PALS for Life protocol and test some of the findings from the interviews.
Long-term plans call for continued expansion and growth of the collaboration between UD and the University of Otago, which could include faculty and student exchanges, international internships, and multi-site research projects.
"The collaboration with UD will enhance research and teaching at our respective universities," says Jones, "but of greater importance to me personally is expanding exercise opportunities to women in the state of Delaware that are carefully planned, prescribed and delivered." 
"I have been humbled by comments from our clients that they don't know how they would have survived treatment if it hadn't been for our exercise program," she adds. "In conjunction with compelling research, I'm convinced that the key to healthy survivorship following cancer diagnosis is exercise."
For Getchell, the research is a significant departure from her previous work investigating motor control in children. But, as a breast cancer survivor herself, she sees the new partnership as a perfect fit. 
"The five-year survival rate for breast cancer is now more than 80 percent," she says. "I think we can learn a lot from Lynnette's program about how to help survivors have a better quality of life through exercise programs tailored to their needs." 
About the research team
Nancy Getchell is an associate professor in the Department of Kinesiology and Applied Physiology at UD. Beth Orsega-Smith is an associate professor in UD's Department of Behavioral Health and Nutrition. Lynnette Jones is a senior lecturer in exercise prescription in the School of Physical Education at the University of Otago. Getchell has received support for the collaboration from UD's Institute for Global Studies.
Amanda Gropack is a kinesiology and applied physiology major from Glen Head, N.Y.; Jennifer Murphy is an exercise physiology major from Dumont, N.J.; and Kayla Carrigan is a psychology major from Blackfoot, Idaho. In addition to Getchell, the three students worked with the Delaware Breast Cancer Coalition and the Healthy Steps Program at the Helen Graham Cancer Center.
A graduate student with American College of Sports Medicine and (ACSM) and America Council on Exercise (ACE) certifications will provide exercise training for the participants in the UD pilot program in October. For more information about the program, contact Getchell at 302-831-6682 or via email at getchell@udel.edu.
Article by Diane Kukich
Photo by Ambre Alexander