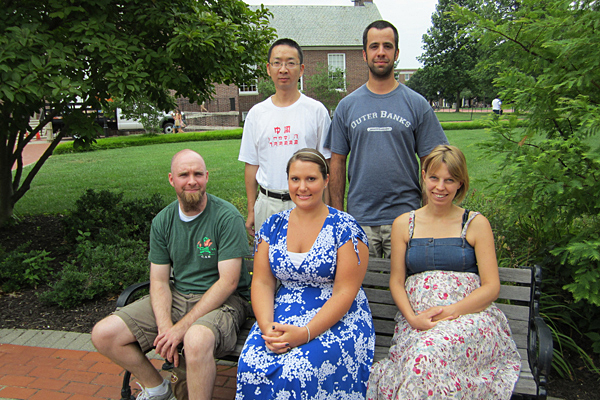 Academic career prep
Five doctoral students participate in summer academic career institute
8:41 a.m., Aug. 5, 2011--Five highly motivated doctoral students from a range of disciplines dedicated a week of their summer, Aug. 1-5, to participating in the Putting Your Ph.D. to Work: Academic Career Preparation Summer Institute, co-sponsored by the University of Delaware's Office of Graduate and Professional Education, the Center for Teaching and Learning and the UD Career Services Center.
The institute focused on the dual goals of preparing students for the academic job search and successful transition into the first year of an academic appointment.
June 6: UDid It! Picnic
All UD faculty and staff members are invited to attend the annual UDid It! employee appreciation picnic, set from 11 a.m.-1:30 p.m., Monday, June 6, on The Green.
2FA protects you
If you are using two-factor authentication (2FA), even if a hacker has your password, your information is probably safe.
Co-facilitated for the third summer by Gabriele Bauer, associate director of the Center for Teaching and Learning, and Marianne Green, assistant director of the Career Services Center, the morning sessions -- held from 9 a.m. to noon -- provided a framework for understanding and preparing for the academic job search process and aspects of faculty careers.
The afternoon sessions -- held from 1-3:30 p.m. -- were devoted to developing and honing job application documents such as the CV, cover letter, research statement, teaching statement and ePortfolio, with the help of instructor feedback and peer review.
In addition to online resources in Sakai and their text, The Chicago Guide to Your Academic Career, the institute fellows benefited from hearing from a variety of speakers. Carol Rudisell, UD research librarian, talked about finding grant opportunities and postdoctoral fellowships; Paul Larson, doctoral candidate, economics, discussed his ePortfolio; and Ann Johnson, a Ph.D. in the School of Public Policy and Administration, offered valuable information about her campus interview experiences.
Adding a real world perspective via video, Elizabeth Soslau, UD assistant professor, clinical studies, School of Education, and an alumna of the 2009 institute, spoke about her academic job search and the negotiation process. 
Fellows in the 2011 Academic Career Preparation Summer Institute were Laura Black (Department of Civil and Environmental Engineering), Kevin Daly (Department of Sociology and Criminal Justice), Ke Li (Department of Computer and Information Sciences), Joseph Stanzione (Department of Chemical Engineering), and Juliette Tolay (Department of Political Science and International Relations). Their successful completion of the institute will be recorded on their official transcript as UNIV 608.
Li said of the institute, "As an international graduate student, I needed to learn how an academic job search is conducted in the U.S. The institute gave me the help I needed."
Daly noted, "For the first time I really looked at how and why I teach the way I do. I had to put my philosophy into words and express it in my teaching statement. The assignments and feedback helped me do this."
Black and Tolay noted that the institute "pushed" them to take a closer look at their CVs, and other documents, and motivated them to make important changes. "Sharing with peers, who were going through the same process, was very helpful," Tolay added.
The Academic Career Preparation Summer Institute will be offered again in the summer of 2012 and information about the 2012 Institute will be available next spring. For more information, see the website.