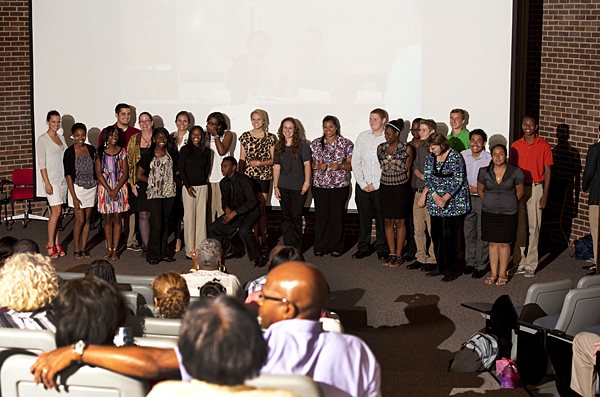 Entrepreneurial spirit
EntrePrep: Students go live with business ventures in Newark
12:12 p.m., Aug. 11, 2011--Business as usual was not the case for downtown Newark last Saturday. Instead, 23 students from high schools across northern Delaware and their Business-for-a-Day greeted visitors among the mainstays of Main Street. The culmination of a six-day residential program, the event held Aug. 6 put to good use the newly honed entrepreneurial skills the students developed at the EntrePrep Summer Institute, a program that provides project-based, hands-on entrepreneurial experiences with a foundation in economic education.
Based out of the University's Center for Economic Education and Entrepreneurship (CEEE) and made possible with support from the Delaware Department of Labor, EntrePrep teaches high school juniors and seniors students how to begin their own venture through an experiential learning environment. 
From graduates, faculty
As it neared time for the processional to open the University of Delaware Commencement ceremonies, graduating students and faculty members shared their feelings about what the event means to them.
Doctoral hooding
It was a day of triumph, cheers and collective relief as more than 160 students from 21 nations participated in the University of Delaware's Doctoral Hooding Convocation held Friday morning on The Green.
"EntrePrep first introduces students to the fundamentals of starting and operating a business," said Jim O'Neill, director of the CEEE. "Students are then called upon to recognize an opportunity, select a team and formulate a business idea complete with a business plan before launching their Business-for-a-Day in front of a live audience."
From brainstorming to Business-for-a-Day
Kyle Klaiv of Glasgow High School and Sarah Brennan, Ally Gayeski and Paige Sioma of Padua Academy, created Flower Child: Floral Arrangement through brainstorming and playing off their common interests.
"I have wanted to start my own florist shop for awhile and this was a great way to learn that," said Klaiv, who was hopeful the idea would work because "it is something people have an interest in." Added Sioma, "We create elegant, fresh floral arrangements for under $30. I believe our business will succeed because it is a unique idea people can relate to." 
Gayeski and Brennan also noted that hard work and preparation would help them succeed.
Jayliah Johnson of Howard High School of Technology (HHST) drew inspiration for her business, Team Spirit, from cheerleaders.
"I first thought of selling custom-made bracelets and hair ties because I always see cheerleaders wearing them," said Johnson. Teammate Alisa O'Neill of Cab Calloway added, "We think Team Spirit will be successful because a lot of people think bracelets and hair clips are cute and stylish." 
Teammate Barbara Barnhart of HHST also expected to be successful because their products fit into the "accessories" market. Jelani Cato, also of HHST and a member of Team Spirit, added that EntrePrep challenged her team in brainstorming to "think of realistic creative ideas that would be useful to the public."
Cristian Mendez-G. of HHST and Ian Akers of Monument Mount Regional High School, who brainstormed with other teammates a video advertising agency to create commercials, got their idea by "finding the combined passions of the group members."
Hands-on experience a hit
Students had many positive things to say of the instructors, peer networking opportunities and the experiential nature of EntrePrep.
"We already had some of the tools to invent and innovate, but the program showed us how to use those tools to our full ability," said Michael J. Henry of St. George's Technical High School (SGTHS).
Kimberly Kelly, also of SGTHS, was grateful for the balanced role the EntrePrep instructors played. "All the teachers have been a great help in the planning process -- not helping too much but doing enough to guide us in the right direction," she said. 
Nick Hinton of HHST appreciated learning about business principles and practices through guest speakers and classes as well as building relationships with other participants. "Both work and play made EntrePrep great," he said.
Brennan appreciated the new relationships, too. "I was forced to work outside my comfort zone and take charge of a real business, something I couldn't imagine attempting a few weeks ago," she said. "But the experience helped me grow as a person, and I've met some really fantastic people to help me get through the stresses of running a business."
Brennan also noted that the experience challenged students to "work through problems like an adult." "We got a taste of the real world and what it takes to be a successful entrepreneur," said Brennan. "It was eye-opening."
EntrePrep graduates return
The program also boasts a base of "alumni" who return as mentors to share their experiences and assist with the program.
"Through classroom lectures and hands-on activities, participants get a true grasp of being an entrepreneur," said Bryan Sediqzad of the University of Kansas, who noted that he returned as a mentor after participating as a student in 2007 so he could be a part of that "real-life" entrepreneurship experience with the students.
Molly McIndoe of the University of North Carolina at Greensboro participated in an EntrePrep program held in Maine in 2007, which she says gave her the courage to turn her hobby into a business that is still running today.
"My EntrePrep partner and I had an idea we believed would be a hit and we were able to learn in a hands-on setting how to bring a business to life," said McIndoe. "Now this is my third time back, and as a mentor for the kids I am able to share my experiences with them and motivate them to do the best that they can."
McIndoe's participation as a mentor also has a personal side: her aunt, Carrie J. McIndoe, was responsible for reviving EntrePrep and disseminating youth entrepreneurship programs nationwide through her nonprofit organization Economic Ventures.
Destiny Mills of Pencader Charter, who participated in EntrePrep last year and returned as a mentor after a positive experience, spoke highly of McIndoe.
"Carrie is a great leader, teacher and "spear-header," and you can tell she really wants to provide this opportunity for the kids."
Article by Kathryn Marrone Meier
Photo by Kathy F. Atkinson