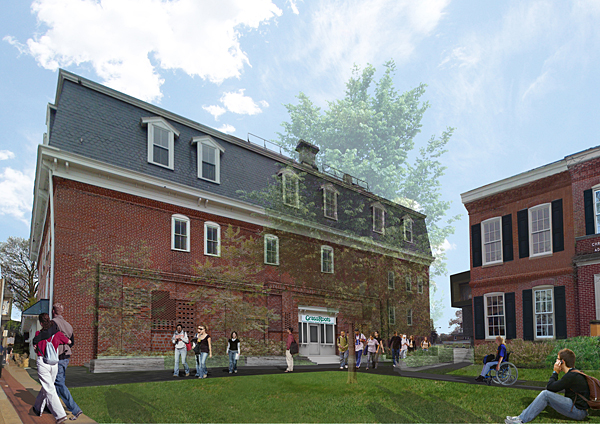 History in the re-making
Brick wall to serve as teaching tool, journey through the history of masonry
10:20 a.m., Aug. 5, 2011--Just 335 days ago, the University of Delaware and Barnes & Noble held a ground "opening" ceremony to commence construction of the new UD Bookstore on Main Street. 
From graduates, faculty
As it neared time for the processional to open the University of Delaware Commencement ceremonies, graduating students and faculty members shared their feelings about what the event means to them.
Doctoral hooding
It was a day of triumph, cheers and collective relief as more than 160 students from 21 nations participated in the University of Delaware's Doctoral Hooding Convocation held Friday morning on The Green.
Situated among historic buildings such as the Aetna Firehouse and the Opera House, which now houses Grassroots Handcrafts, the three-story, gray facade bookstore opened its doors Aug. 1.
"In less than a year, we were able to transform this parking lot and former administrative building into a fully functioning business," said David Singleton, UD vice president for facilities and auxiliary services. Singleton credits the project management firm, Wilmington-based Buccini/Pollin Group, as well as the lead architect, DIGSAU, for meeting the swift timeline, particularly because of hitting one obstacle along the way.
During the construction, a former bank building next to the Opera House was demolished, making way for the UD Bookstore's Academy Street entrance and courtyard. The bank was constructed in 1915, more than four decades after the Opera House, and rather than building a separate load bearing wall, the builders poured a new concrete wall directly against the outside wall of the Opera House.
David Ames, director of UD's Center for Historic Architectural and Design, explained that this decision nearly a century ago presented a unique problem today. "When they demolished the bank building, they found that the concrete wall was embedded in the brick wall and couldn't be removed without destroying the structural integrity of the Opera House wall." 
An educational solution
The University saw this hurdle as an opportunity to do something unique with this wall, as it would be a focal point approaching the UD Bookstore from the west side of Main Street.
"Our goal was to make this wall as interesting and compelling a design as the new Bookstore," said Peter Krawchyk, director of UD's Facilities Planning and Construction. 
With the guidance of UD's Facilities team, Ames pulled together a group of faculty and students from various architecture and historic preservation programs to assist.
Their first thought was to paint a mural, but Ames explained, "As appealing as that was, it was a little complicated -- and expensive." The simplest option was to build a brick wall to cover the cement wall, but it was not visually interesting. 
Then the idea came about to use to brick wall as a teaching tool for historic architecture.
"The wall could illustrate different kinds of bricks and brick courses," said Ames. Having an emphasis on field-based studies in his courses, Ames thought his students could use the wall as a learning tool -- getting to see real bricks and the various bond patterns -- rather than just pictures in a book.
The idea resonated with the University. "I think the installation will hold your attention and add an interesting piece to public art to Main Street," University Architect and Campus Planner Alan Brangman said.
Highlighting the mason's craft
The Brick Educational Wall will contain 23 unique bond patterns and intends to "highlight the mason's craft and skill and their ability to transform a simple wall into a highly textured and animated surface," said Mark Sanderson of DIGSAU.
Bond patterns, such as Flemish, English, Garden and Monk, can already been seen on UD's campus with its popular Georgian Revival architecture. With bricks of various sizes and colors, interspersed with those traditional patterns will be three-dimensional bonds that display the potential depth of a masonry wall.
Beyond the University, the Brick Educational Wall will benefit the greater UD community by serving as a resource as well as a point of interest. Neighboring business Grassroots Handcrafts said the wall and new Bookstore has been an exciting project.
"Decoupling the two buildings to create the courtyard and make the historic Opera House free standing once again was not an easy process," said Kristin Short, company manager of Grassroots Handcrafts. The biggest take away for Grassroots Handcrafts is the ability to create a handicapped accessible doorway into the store, which Short says she believes "will greatly improve access to our business." 
Beginning the first week in August, the Brick Educational Wall will take seven masons from New Castle-based Diamond State Masonry approximately three weeks to complete, just in time to be a teaching tool for courses of Ames and other faculty.
"The Brick Educational Wall will allow visitors to the new Bookstore as well as passersby on Main Street to both test their knowledge of traditional brick patterns and to see how versatile masonry patterns can be," Brangman said. "Perhaps they will be able to match a pattern to that of their home, workplace or other brick buildings that they may be familiar with." 
Article by Meredith Chapman
Image courtesy of DIGSAU